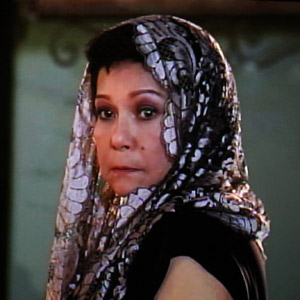 ---
These days, basta magaling umiyak, a star can easily earn the dramatic actress tag.
However, not all drama actresses are created equal.
Throughout her career, local showbiz icon Nora Aunor has raised the bar for exemplary acting and evolved a style truly her own.
Tonight, local TV audiences will get reacquainted with the Superstar's inimitable acting prowess in Sa Ngalan Ng Ina.
"Sa mata pa lang," says her co-star Christopher de Leon—himself an award-winning and high-caliber actor.
TV5's upcoming mini-serye, which will premiere on October 3, is aptly described as "the grandest political drama ever seen on Philippine television."
It doesn't have the imposing backdrop of the multi-awarded Korean Drama series The Big Thing (2010), but directors Mario O' Hara and John Red are able to capture the raw, rustic charm of a probinsiya; and the drama, tension, and violence of pulitika in just one episode.
As it deviates from the sterotypical fanstaseryes or telefantasyas, Koreanovelas, local adaptations, and remakes that dominate mainstream TV nowadays, it attempts to break new barriers, and—hopefully—stand out as a worthy precedent.
THE STORY. The concept is reminiscent of how the Presidency was thrust upon former Philippine President Corazon Aquino in 1986. But the setting is in a province, so it doesn't have the feel of the EDSA Revolution at all.
Elena Deogracias (Nora) is the main character.
She's a simple housewife who suddenly finds herself embracing the complexities of political life and government power after the assassination of her well-loved husband Amang Deogracias (Bembol Roco).
She will be facing conflicts in her own home, where stepchildren Andrea (Nadine Samonte) and Alfonso (Alwyn Uytingco) will try to make her life more difficult.
She will have her share of insults and disparagement from the people around her.
She will encounter impediments—Pepe Ilustre (Christopher de Leon), a man from her past, and wife Lucia (Rosanna Roces), a powerful lady whose family name has ruled the province for so many years.
ADVERTISEMENT - CONTINUE READING BELOW
But she will rise above the chaos.
The series will have a lot of drama (not the exaggerated kind), plus, the thrill and mystery as the plot thickens.
THE CAST. In this project, the Boyet-Nora tandem gets resurrected.
"Hindi na kami bata," states the Drama King in one of his previous interviews; still, "may pitik pa rin," as the Superstar puts it.
But more than the chemistry that Noranians will surely rave about, non-Nora fans will also appreciate the tagisan sa pag-arte between two of the country's most-awarded actors.
It won't happen yet in the first episode, which will only show a meaningful exchange of glances between the ex-couple.
Likewise, Osang's fierceness is not going to be that evident yet. But as far as the packaging is concerned, she earns a "bongga ang asta!" remark from some press people.
Cinemalaya 2011 winners Eugene Domingo (Pacita Toribio, sister of Elena) and Edgar Allan Guzman (Angelo, the good son of Amang) are effortlessly good. The latter's crying scene after the doctor told the family about his dad's death is quite a stealer.
As for Nadine and Alwyn, they will be playing aggravator roles.
The StarStruck alumna already has the stance of a promising actress. She has the face of an angel with an ambitious mind and potentially-odious heart. Her acting is not exaggerated, but needs a bit more intensity in the way she delivers some of her lines.
For his part, Alwyn's rebellious character has given him depth as an actor—parati siyang galit. This project will put an end to his pa-tweetums days.
A FITTING COMEBACK PROJECT FOR THE SUPERSTAR. Nora is poised to put drama back into the limelight with this Mario O' Hara obra.
With what's going to be aired tonight—her earnest prayer, her frantic dash from the plaza to the hospital, her pain after learning about the death of Amang, her breakdown while choosing the barong that her husband will wear—Elena has the power to evoke and provoke.
ADVERTISEMENT - CONTINUE READING BELOW
She will not just reduce viewers to tears, but make them leap out of their seats and join her quest for justice.
Of course, the directors deserve a pat on the back as well for the first episode's seamless storytelling and realistic treatment.
Sa Ngalan Ng Ina doesn't have elaborate sets, overstated effects and scoring, and too stagy scenes, but what it lacks in grandeur it more than makes up for in coherence and depth—essential elements with which to dissect a politics-related quandary.
Lastly, Nora's star will shine again, if not reconquer Philippine television. It's about time aspiring actors take a page from the Superstar's book, and heed her sage wisdom: "Hindi mabibilang ang iyak na galing sa puso."