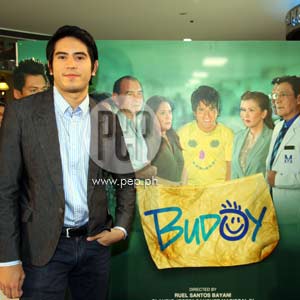 ---
They are called special children with special needs.
They were born deprived of certain mental faculties and thus function differently from the rest of humankind. As such, their impaired physical condition and judgment make it difficult for them to cope with the rigors of normal, everyday life. Worse, they often become the subject of ridicule or torment, and are taken advantage of by callous individuals simply because they can't fight back or cause harm.
But despite their handicap, these individuals are just as worthy of love, for the simple reason that they can express their emotions and reciprocate their love with just as much intensity and passion.
ABS-CBN's new primetime drama series Budoy depicts the journey of a mentally disadvantaged individual who was ill-fated the moment he was conceived. Benjamin, or Budoy, (Gerald Anderson) is the product of a failed in vitro fertilization (IVF) procedure done by his own father, Dr. Anton Maniego (Tirso Cruz III), an accomplished and well-renowned Obstetrician-Gynecologist.
ADVERTISEMENT - CONTINUE READING BELOW
Anton's wife, the gentle and quiet Luisa (Zsa Zsa Padilla) had difficulty conceiving a child—a predicament that put pressure on the doctor whose expertise included helping out couples who experienced the same problems. Driven by his love for his wife and his hubris to uplift the Maniegos' revered name in medical history, the doctor took it upon himself to perform IVF during a time when its results were still inconclusive.
The child that Luisa gives birth to, a mentally disadvantaged child, becomes Anton's downfall and a threat to the their family's stature in the medical field. Upon being diagnosed by Anton's brother Isaac (Christian Vasquez), a pediatrician, Benjamin's true condition is kept from Luisa upon the prodding of Anton. He feels that keeping the truth from her will spare her from the hurt and misery; in the same vein, Anton is determined to find a cure and to save face from his faux pas.
ADVERTISEMENT - CONTINUE READING BELOW
While Luisa's maternal instinct tells her that something is wrong with her child, the Maniegos— comprised of Anton, Isaac, the matriarch of the family (Barbara Perez), and Isaac's wife Grace (Mylene Dizon)— insist that three-year-old Benjamin's delayed learning is normal. Luisa, strongly driven by her maternal love, goes out of her way to seek a second opinion from the Maneigos' professional rivals: the Velezes.
Such actions enrage Anton's mother who has worked her whole life to protect their name and the reputation of the hospital that the Maniegos own. While she understands that nothing will stop Luisa from getting hold of the truth, the matriarch will not allow her son's failure and her grandson's condition be discovered by their competitors and colleagues.
Out of desperation, the matriarch stages a mock kidnap scenario just to get the child out the family's care and custody. She hires Chinggay (Arlene Muhlach), an unfeeling caretaker, to look after the child in a secluded place in the province. Benjamin's loss breaks Luisa's heart while Anton knows that his mother had something to do with the kidnapping.
ADVERTISEMENT - CONTINUE READING BELOW
The matriarch takes the initiative to confess her actions to Anton as she justifies that she will not put their reputation and honor on the line. She likewise tells Anton that she resorted to such actions so as to give Anton ample time to find a cure for Benjamin's mental retardation. "Binigyan kita ng pagkakataon para pagalingin ang anak mo... Mahal ko ang apo ko! Hindi ko pinagsisisihan ang ginawa ko dahil alam kong 'yun ang tama," she says in tears.
At this point Budoy's theme becomes clear: being a parent is no simple feat. Bringing up a child, protecting him and loving him even through adulthood, requires strength. At times, being a parent means making difficult decisions that might not exactly concur with the common good. For instance, the matriarch's recourse separates Luisa from her child.
As Anton regularly visits Chinggay and Benjamin, he works on the cure. He also continues to lie to Luisa whose depression gradually brings her closer and closer towards the brink of an emotional and mental breakdown—calling to mind a modern day Sisa, Jose Rizal's fictional character.
ADVERTISEMENT - CONTINUE READING BELOW
Meanwhile, Chinggay, well paid by the Maniegos, cannot find the patience to care for Benjamin. She comes across the good-natured and affable Elena or Lenlen (Janice de Belen) who Benjamin learns to depend on and eventually recognizes as his mother. While Elena's back story is only implied, we learn that in the past she has lost a child who is Benjamin's age.


While taking care of the child, "Budoy" as she calls him, Elena is cognizant of the fact that Budoy is special. She takes the initiative in consulting a pediatrician who confirms that Budoy is indeed mentally disadvantaged. The doctor informs Elena that while she can seek therapy for Budoy, the best remedy for his condition is none other than tender, loving care which the child is capable of reciprocating in the long run.
In a tragic stroke of fate, the overweight and self-indulgent Chinggay dies of a heart attack. Because she cannot find the heart to give away Budoy to an orphanage, Elena takes him with her to the rural town of San Luis and raises him there until he reaches young adulthood.
ADVERTISEMENT - CONTINUE READING BELOW
In San Luis, Budoy befriends the clever and charming Jacky (Jessy Mendiola) who becomes her best friend. While the simple, bucolic life in San Luis is peaceful, Budoy does not escape the iniquity and bullying of some of the townsfolk. He often becomes the butt of jokes and is often the target of pranks.
Despite the cruelty he incurs because of his intellectual deficiency, Budoy's optimism is forever buoyed by Elena's selfless dedication. Despite his abnormality, Elena rears Budoy in the most normal way she can—sending him to school, celebrating his birthdays, allowing him to explore the world as she raises him like her own.
A most poignant and moving scene finds Elena coming to Budoy's rescue as he gets castigated by the townspeople after a fire breaks out in one of the school's classrooms. Budoy, working as the school's janitor, was coerced to open one of the rooms by a gang of troublemakers who were attempting to rob the equipment in a laboratory. Caught on the scene, the hapless and powerless Budoy is blamed by school authorities.
ADVERTISEMENT - CONTINUE READING BELOW
Elena arrives in the middle of the chaos and sees Budoy being persecuted for something he didn't do. Nothing is more heartbreaking and endearing at the same time than a mother defending and shielding her innocent child from a world than can be so unjustly ruthless.
After the incident, Elena and Budoy decide to leave for Manila where the next few episodes of the soap will gradually link back Budoy to his true progenitors and his real identity.
As Budoy's former years in San Luis went by, the Maniegos are still haunted by Benjamin's loss. Luisa, despite still being oblivious of the truth behind her son's fate, was driven to create a foundation for orphans and mentally-impaired children.
Apart from the series' big-hearted advocacy and its endearing themes, Budoy's strength lies in its convincing subplots that will twist and turn, and most importantly shed light on characters that have an equal weight in the story.
ADVERTISEMENT - CONTINUE READING BELOW
Budoy promises to be an engaging primetime series that teaches values on family and life, portrays the struggle of the mentally challenged, and depicts the faith and love that they rightfully deserve.