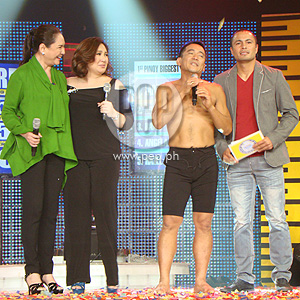 ---
Everyone in the audience was tense as the Biggest Loser Pinoy Edition Fab 5 contestants took their final weigh-in last Saturday, October 8, at the Ynares Sports Arena.
Angela Chico-Lupangco, 26, was the first contestant called to step on the weighing scale.
Her husband looked so nervous that one of the program's physical trainers, Jim Saret, told him, "O, pwede kang huminga, ha."
Angela decided to join the contest because she wanted to have a child, but her weight issue then was a major hindrance to her plan. (CLICK HERE to read related article)
This is not a problem anymore since Angela already lost 77 lbs., from her original weight of 223 lbs. By losing 33.63 percent of her original weight, the challenger from Laguna placed fourth.
Next on the scale was 22-year-old Raffy Tan.
In a previous interview with the Negros Occidental native, he said the training in the camp made him realize the importance of prioritizing his family and taking care of his younger sister.
He can now do this more easily since he already lost 100 pounds from his original weight of 287 lbs. This also made him become the third Pinoy Biggest Loser.
Following Raffy was his girlfriend Hazel Chua, whom he knew inside the camp.
Hazel entered the Biggest Loser camp with low self esteem. But even when Sharon first saw her before the training, she already believed that Hazel had the looks of a beauty queen.
True enough, Hazel became one of the favorites among male televiewers because of her startling transformation.
She weighed 206 lbs. on her first day in the camp. Last Saturday, the scale marked 138 lbs. The 66 percent weight loss put her in fifth place.
Next to Hazel was one of the toughest contenders among the five remaining contestants, Art Mendoza.
The 35-year-old businessman related in the beginning of the show that the lowest point of his life was his failed marriage.
ADVERTISEMENT - CONTINUE READING BELOW
The Biggest Loser Pinoy Edition, according to Art, made him love himself first before loving someone else again. (CLICK HERE to read related article)
The audience got excited as the weighing scale read his current weight. When it stopped, it revealed that from 341 lbs., Art became 129 lbs. lighter.
Lastly, former policeman Larry Martin approached the weighing scale.
In a press conference held for the Fab 5 recently, Larry mentioned that he regained his self-respect as well as the respect of his family after his experience at the BLPE camp. (CLICK HERE to read related article)
When the people inside the arena started cheering for him, the 36-year-old challenger confidently took of his Biggest Loser shirt to show off his sculpted body.
But this did not make him a winner yet until the scale read 154lbs, which meant he lost 101 lbs. from his original 255 lbs. weight.
Comparing the last two challengers, Art was only 37.83 percent less than his original weight. Larry, on the other hand, posted the highest weight loss percentage among the Fab 5, at 39.41 percent.
CONGRATULATIONS, LARRY. After the program, Larry was congratulated by his fellow Biggest Loser contestants, his trainers, of course, the hosts of the show.
Coach Jim, who has been the physical trainer for the Blue Team (Larry's group), described how determined he was since the start of the challenge.
"Pinakamarami siyang Biggest Loser of the Week, sa exercises, siya ang pinakamabilis, nauuna parati, perfect role model.
"Kung magkaka-role model for anything in life, si Larry 'yon.
"Alam mo 'yon, kulang na lang talaga 'yong title, e.
"He did everything."
Even outside the camp, according to Coach Jim, Larry was still very eager to lose more weight.
"Talagang we tried every day kasi ang hirap na ng phase na 'yon, e. Halos wala ka nang mapiga.
"Kung makikita mo lang si Larry every day, makikita mo na talagang bagsak na.
ADVERTISEMENT - CONTINUE READING BELOW
"Every molecule na matatanggal namin sa kanilang katawan, tinanggal namin.
"The good thing is, he gave his 100 percent. Walang complain 'yan.
"I didn't know he's gonna win, but I was hoping he's gonna win.
"And when he won, talagang I think he deserved it. He really deserved it."
Meanwhile, Derek said he is very proud of Larry's achievement.
"Larry, you're P1M richer!" he jested.
"Pero that's not important. Hindi natin ginawa ito para sa pera.
"Ginawa natin ito para gumanda ang iyong kalagayan, gumanda ang iyong health for you to be around and spend more time with your loved ones."
In another interview, Sharon Cuneta said anyone from the Fab 5 deserved to win.
She remembered, however, the determination that Larry put in the game.
The Megastar related, "Larry in particular, from Day 1 talaga, sabi ng mga kasama niya, kahit before the eliminations, ang sinasabi talaga, tulog na 'yong iba, nagwo-workout pa siya."
She also stressed how this guy from Camarines Sur inspired everyone in the show.
"Yung sinasabi niya talaga, na sobrang nakadagdag ng inspirasyon sa amin, hindi lang yung katawan niya at kagustuhan niyang maibalik sa police force ang naibalik namin sa kanya kung 'di yung tiwala at dangal sa sarili niya.
"'Yon talaga, it hit me straightly into my heart. He's so deserving of the title, the very first Pinoy Biggest Loser."
BIGGEST LOSER AT HOME. Aside from Larry, eliminated contestant Ryan Razon was also declared as the Biggest Loser At Home winner.
Among the 11 eliminated contestants, the 28-year-old manager of the renowned Razon's restaurant managed to lose the most weight outside the camp.
From 293 lbs., Ryan was 174 lbs. during the last weigh in. This equated to 40.61 percent weight loss.
Following him was Allan Choachuy, who was one pound short of snatching the title from Ryan.
ADVERTISEMENT - CONTINUE READING BELOW
From 309 lbs., the guy from Cebu lost 125 lbs. which was equivalent to only 40.45 percent.
The other challengers were Eric Limatog, Joy Siy, JM Oloris, Winwin Cabinta, Eboy Bautista, Leigh Villegas, Edden Cruz, Destiny Duarte, and Andy Gomez de Liaño.