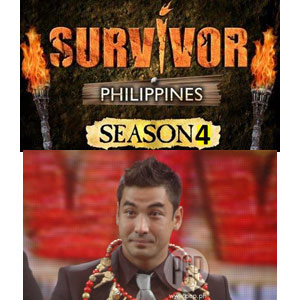 ---


GMA-7 presents another batch of castaways for Survivor Philippines Season 4. Faced with life-threatening storms, poisonous creatures and a harsh camp life, who among the castaways will outwit, outplay and outlast each other to become the next Celebrity Survivor?


Here are some clues to identify this year's castaways. Who among them will follow in the footsteps of Akihiro Sato and be hailed as the Sole Celebrity Survivor?


This tandem of hunky tisoy cousins will surely be rooted for by their respective partners--a morning show host and a sexy actress.


This tattooed Fil-Am hottie took a break from his hosting job to try life in the island with a sultry singer who is supposed to lure him back to their now estranged romantic partnership.


A young professional surfer reportedly pleaded to her mother, a former beauty queen-turned-sexy actress, to join Survivor. The mother relented, exchanging her life of urban comfort for 36 days in harsh camp environs.
ADVERTISEMENT - CONTINUE READING BELOW

Now both with families of their own, these two child stars teamed up during their growing years when their supposed young romance was nipped in the bud by other priorities. Will her doll-like features end up charming him once again?

Two of this season's bombshells--a hot TV host, who found fame after her hilarious version of a pop song went viral, and a sexy dancer,often reported as the third party for the breakup of some showbiz couples--don't mind showing skin and skills to win the top post.

Not to be outdone, a pair of basketball muses is also set to make things interesting this season--a controversial actress whose former husband was a professional basketball player and a courtside reporter and radio jock known for her liberal views.


This comic duo hopes to lighten the tension with their antics and hilarious punch lines. Will their sense of humor tide them over the challenges and help them reach the end?


This internet celebrity and men's magazine cover girl turned sexy actress, took a leave from her successful gag show to be on the island together with her non-showbiz entrepreneur boyfriend.


Opposites attract. This may be true about this former star search graduate, the current apple of the eye of this hunk model known for his fastfood chain commercial?


A pair of hunky jocks once found intrigue when they posed for an underwear campaign. Will they be able to survive the intrigues in the island or will they use their strength to conquer it?


The identities of the celebrity castaways will be revealed soon on Survivor Philippines Season 4 on GMA-7.
ADVERTISEMENT - CONTINUE READING BELOW