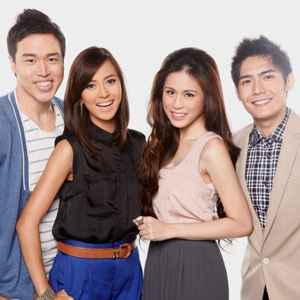 ---
ABS-CBN's reality show returns with its fourth and latest season dubbed as Pinoy Big Brother Unlimited. The local version of the successful international TV franchise from Endemol noted a record-high 30,789 auditionees in its auditions between March and September this year and drew touching accounts from the hopefuls who aspired to enter the PBB house.
The newly furnished PBB house and the new set of housemates will be revealed in PBB Unlimited: The Big Fiesta next Saturday (October 29) by hosts Toni Gonzaga and Bianca Gonzalez, with newbies Robi Domingo and Martin Concio.
"This is definitely going to be better than the last. Compared to past seasons, I think this is the grandest season of PBB," Toni remarked.
As for the additional hosts, the program is both a challenge and a dream come true. Robi, an alumnus and the second placer of PBB Teen Edition Plus in 2008, is very excited to return to the program not as a housemate but as a regular host.
"It feels really great. Being one of the housemates before, I feel that I could relate to their experiences and tell it to the viewers," said Robi, who was the runner up when Ejay Falcon was named as the winner of the reality show.
(CLICK HERE to read related article)
Martin Concio, the youngest son of ABS-CBN President Charo Santos-Concio, will also be hosting the reality show. The 25-year-old host is a graduate of the Ateneo de Manila University with a degree in management engineering.
Martin, a former Music Uplate Live host, admitted, "I've been a big fan since the series started, back during the season where Sam Milby was introduced. I've really followed every season and now I'm excited to be part of the show."
Meanwhile, Bianca felt mixed emotions and is looking forward to work with the same people she has worked with since PBB Teen Edition.
ADVERTISEMENT - CONTINUE READING BELOW
"It's great to be part of PBB because I, Toni, and even the whole production staff grew up with the show," Bianca said.
PBB Unlimited: The Audition Stories will be aired beginning Monday (October 24) wherein stories of faith and aspiration will be featured. In this special giving back series, Big Brother will also lend a hand to those select aspirants who need aid.
PBB Unlimited Update has already started airing last Monday (October 17) featuring the latest news on the preparations leading to the unveiling of the PBB house and introduction of the housemates.
PBB Unlimited Update airs weeknights during Maria la del Barrio and 100 Days to Heaven. The actual kick-off show, PBB Unlimited: The Big Fiesta, will air next Saturday night (October 29) live on ABS-CBN.