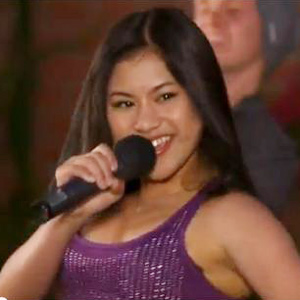 ---
Fil-Am singer Ellona Santiago and her group members have passed another hurdle in their quest to win The X Factor (USA).


During the Boot Camp round, Ellona was one of the soloists chosen to form the group InTENsity. This group, composed of kids ages 12 to 17, was one of the eight group acts mentored by judge Paula Abdul.

InTENsity is composed of Ellona Santiago, Nick Dean, Francesca Duncan, John Lindahl, Emily Michalak, Arin Ray, Lauren Ashley Redmond, Ma'at Bingham Shango, Austin Percario, and Emily Wilson.


For the Judge's House round, Paula Abdul and Pharrell Williams watched the group perform "That's Not My Name."


Ellona, the 15-year-old singer who hails from San Lorenzo, California, was tasked to sing the first solo part of the song. Wearing a purple tank top, Ellona also got another solo part towards the end of the number.


After their performance, Paula congratulated them for a job well done.


Here are the acts who made it to the next round of The X Factor (USA)
ADVERTISEMENT - CONTINUE READING BELOW

GIRLS
Mentor: Simon Cowell
1. Simone Battle
2. Drew Ryniewicz
3. Tiah Tolliver
4. Rachel Crow
Eliminated: Tora Woloshin, Jazzlyn Little, Caitlyn Koch, and Melanie Amaro.
BOYS
Mentor: L.A. Reid
1. Brian Bradley
2. Phillip Lomax
3. Chris Rene
4. Marcus Canty
Eliminated: Nick Voss, Brennin Hunt, Skyelor Anderson, and Tim Cifers.
GROUPS
Mentor: Paula Abdul
1. The Brewer Boys
2. InTENsity
3. Lakoda Rayne
4. The Stereo Hogzz
Eliminated: Illusion Confusion, 2 Squar'd, 4Shore, and The Anser.
OVER 30
Mentor: Nicole Scherzinger
1. Josh Krajcik
2. Dexter Haygood
3. Leroy Bell
4. Stacy Francis


The judges were only supposed to pick 16 acts that will continue in the singing competition. However, Simon Cowell realized that he had made a mistake in the eliminations. He visits Melanie Amaro in her Florida home to apologize and ask her to come back to the competition.
This makes Melanie Amaro the 17th finalist of The X Factor (USA).