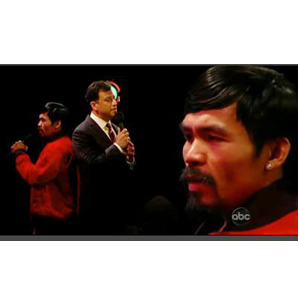 ---
"Pound per Pound King" Manny Pacquiao recently appeared as a special guest on the American late-night show, Jimmy Kimmel Live.
TV host Jimmy Kimmel introduced the boxing champ and Sarangani congressman as "the pride of the Philippines."
Jimmy told Manny, "This is the fifth time you've been here and each time you've been here, you've won the fight. I feel like we're a team really." Pacquiao, who was wearing a red jacket, joined the audience as they burst into laughter.
He responded, "I feel lucky" and Jimmy added, "You know like... a rabbit's foot."
Pacquiao vs. Marquez
Manny, who is currently the WBO Super Welterweight Champion, will face Mexican fighter Juan Manuel Marquez on November 12, 2011 [US time, November 13 - Philippine time].
He and Marquez have fought twice in the past. Their first bout was held in May, 2004. It resulted to a controversial "draw". The second match was last March, 2008 with Pacman winning by unanimous decision. Marquez then lost the Super Featherweight title to Pacman.
The show posted a picture onscreen that showed the Mexican fighter wearing a shirt with text that says "Marquez beat Pacquiao twice!!!" Jimmy wanted to know Manny's reaction.
Does it make you angry? Does fury run through your veins?
The "Pambansang Kamao" simply replied "I am not angry. I always ask myself you know what I need to prove I won the fight so...I did my best so..."
Is he a good fighter?
To this question, Manny said, "He's good but you know... and he pointed to himself with a smile. The audience clapped at the boxer's candidness.
The TV host-comedian pointed out that Manny seemed always relaxed even going to the ring compared to other fighters who are so serious. He observed, "You're smiling and kind of waving at people..."
ADVERTISEMENT - CONTINUE READING BELOW
The boxer-politician explained, "I'm just excited for the fight. I'm excited to give a good show. I work hard at the gym. And that night, I can perform [well]."
For the last fight, you had the lead singer of Survivor singing "Eye of the Tiger" as you came out. How does that work?"
Pacman just laughed at the question. Jimmy's next question was "And who do you have set for, for this fight? Do you have something in mind?"
Manny replied "No. not yet."
The TV host suggested "You can get "New Edition" [group] to sing "Cool it now."
Pacman quipped, "I'm singing as I go the ring" which elicited loud applause from the crowd.
A short video clip was shown with the two boxing fighters singing "La Bamba."
Jimmy asked Pacman his reaction about Lloyd Mayweather. Do you think he is scared to fight you?
"I don't know what the reason is but I'm ready to fight," answered Manny.
The TV host-comedian suggested for the upcoming fight, it should be: Winner takes all. Winner gets all the money."
Given this "winner takes all" scenario, will the boxing champ sign that deal?
"Of course" was Manny's short but sweet answer. The audience applauded loudly.
Manny's newest business: Manny Pacquiao Broccoli
The TV host brought out a box of broccoli, Manny's latest business venture. It is called Manny Pacquiao broccoli. He added by saying "If Popeye had spinach, Manny Pacquiao has broccoli."
The congressman fighter informed "This is my new produce. I eat broccoli. It's [good] for kidney stones and it's healthy too."
As a tradition on Jimmy Kimmel Live!, every guest is requested to sing. Manny gamely sang alongside Jimmy for "How Deep is Your Love."
The main event, Pacquiao-Marquez III: World Welterweight Championship, to be staged at the MGM Grand Garden Arena in Las Vegas, Nevada, will be seen via satellite on GMA Channel 7 at 11:00am this Sunday, with exclusive blow-by-blow action on SUPER RADYO DZBB 594, 97.1 BARANGAY LS, and all RGMA SUPER RADYO and CAMPUS RADIO stations nationwide at 9:00am. It will also have a same day rerun at 10:30pm after Protégé Elimination Special also on GMA-7.
ADVERTISEMENT - CONTINUE READING BELOW