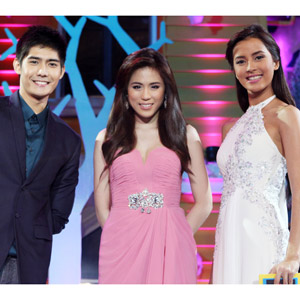 ---
Earlier this week, the housemates of Pinoy Big Brother Unlimited were divided into two distinct groups called PBB Unliday and PBB Unlinight.
Starting November 5, 2011, housemates Pamu Pamorada, Paco Evangelista, Kevin Fowler, Jaz Manabat, Kim de Guzman and Seichang Ushimi have become the PBB Unliday group. Also joining them are Unad Hernandez, Mark Luz, Steph Enage, Erica Arlante, Lordwin Claveria, Jessica Connelly and Lyn Elimanco. Former PBB housemate Bianca Gonzales will be hosting PBB Unliday.
Meanwhile, the housemates in the "looban" comprise of Divine Smith, Luz McClinton, Tin Patrimonio, Carlo Romero, Slater Young, Kigoy Abarico, Joseph Biggel, Jerico Redrico, Anatoly Chua, Jerico Redrico, Joya Genzola, Wendy Tabusalla, Eting Busarang and Casey Austria will now be known as the PBB Unlinight housemates. PBB Unlinight is being hosted by Toni Gonzales.
Another twist is yet to surprise the housemates. Six "reserved" housemates will soon be part of the household. Though their identities were not yet disclosed, they were introduced last night, November 12, by host Toni Gonzaga.
Three female members were referred to as the 3Gs who will join PBB Unlinight. They are "Miss Perfect" of Nueva Ecija, the "Sexy Single Mommy" of Pampanga and "Independent Woman" of Sampaloc.
"Miss Perfect" was asked by Toni who she seems to like among the male housemates. "Si Jerico. Mukhang maamo" was her reply. The girl dubbed as "Miss Perfect" is a model and beauty queen who is also a cum laude graduate.
"Sexy Single Mommy," a Kapampangan who is known to be a good cook, was asked to name a guy whom she would like to cook for. She gamely replied "Most definitely Carlo. He's hot...sexy for me and spontaneous."
Toni asked "Miss Independent" to name a housemate that she thinks she will not get along with. "Miss Independent" pointed out Tin. "Mukhang maarte siya," she observed.
ADVERTISEMENT - CONTINUE READING BELOW
Host Bianca Gonzales on the other hand, introduced the 3 male "Power Strangers" who will join PBB Unliday. They are the "Astiging Kenkoy" from Paranaque, "Pilyong Rakitero" ng QC and "Poging Petics" ng La Union.
Bianca asked Astiging Kenkoy who among the female housemates whom he would like to charm. He answered "lahat ng babae, gusto ko po." The model actually comes from a clan known for producing action stars.
Next in line to be asked is "Pilyong Raketero." "Who among the housemates do you consider your "competitor?"
"Pilyong Raketero" replied, "Feeling ko makakabangga ko doon si Paco...masyado siyang nagpapaka- bossy." The young man from Quezon City is known as one of the top salesmen of a networking company. His parents separated and he ended up living with his mother.
Bianca then asked "Poging Petics" who among the housemates will catch his ire. To which, he remarked "Palagay ko si Unad. Kasi parang may masasabi siya sa akin na di ko magugustuhan." This particular housemate has an Italian father but he was raised by his mother. He plans to continue his studies since he was unable to finish his Architecture degree.
NOT JUST A HANDICAPPED PERSON. Toni took the time to interview the PBB Unliday housemates. The actress-singer asked the Strong Wheeled Teacher ng Davao, Naprey Alamrio, "what can you share or contribute to your housemates and the general public as a person?"
He replied, "First, yung advocacy ko is to show to the viewing public that I'm not just merely a handicapped person. I'm a human being that can participate. I am with "normal" people, with legs, ganyan Kumpleto...pwedeng mag-participate, mag-contribute."
Toni chided Erica, who lived in Japan, about the origami task that she had difficulty with. Erica admitted, "never pa ako nakagawa [ng origami]. Na-confuse ako doon sa mga last na ginawa."
ADVERTISEMENT - CONTINUE READING BELOW
The host then asked Paco how he feels about his "contribution" since the housemates were able to fulfill Kuya's task without a glitch. Paco remarked "everybody contributed to our victory. Sa tingin ko, di malaki or maliit, lahat po kami nag-contribute..."
The last person that Toni talked to was Kim. Toni inquired who among the housemates she is closest to. Kim pointed out, "Kay Jaz po, pareho kaming nagmo-model before...sa boys po, lahat naman close."
SECRET TASK. Slater Young of PBB Unlinight was reminded that he could be forcibly evicted from the PBB house for not following Kuya's directions. Earlier this week, Big Brother told Slater to pretend that he fell in love immediately with fellow housemate Joya. However, Slater decided to withdraw from the secret task.
As a result, Big Brother gave Slater a new task. Kuya disclosed to him that the new housemates called the "3Gs" will be joining them soon. Slater's mission is to convince the male housemates to want the "3G" to stay and become official housemates too. But should the "3G" stay, one of the female housemates will have to leave. If the male housemates cannot decide the housemate that will be forcibly evicted, Slater will have to be the one to choose.
If Slater becomes unsuccessful in this task, he himself will be evicted from the Big Brother house.
What will happen to Slater and his secret task? Will the "3Gs" be given a warm welcome?