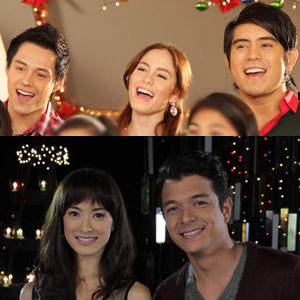 ---
After coming up with a string of catchy and memorable Christmas station IDs year after year, what new ideas can ABS-CBN come up with to top its previous years' efforts?

Their themes may vary, their stars may come and go, the music may change, but the Kapamilya network seems to have perfected the craft of making Christmas IDs.
First, they write a song with a catchy hook and repetitive lyrics so it's easy to remember. Then, they use it in a music video showing a barrage of ABS-CBN stars in traditional Pinoy Christmas activities. Mix in a couple of ordinary people enjoying the festivities with stars (as if things like John Lloyd suddenly joining your photo ops or Toni Gonzaga joining your supermarket shopping normally happen in real life). And most important of all, they look for that kurot sa puso element that ABS-CBN's Station IDs have been known for.

This year, ABS-CBN went for the theme "Saan Man Sa Mundo, Da Best ang Pasko ng Pilipino" completing their Bida Best station IDs for the year. The SID seems to focus on the Christmas celebrations of Pinoys, particularly those working or residing overseas. And why not? Surely, most Pinoys can relate to this with the number of Filipinos already living and working in many countries around the world. All of us are related or connected to a fellow Pinoy living in any of the world's time zones.

The SID basically tells us that no matter where life takes us Filipinos, no matter how many cultures we experience and adapt to, we always return to the Filipino way of celebrating Christmas simply because it's the best— the longest, happiest, and most festive season closest to our hearts.

Although it seems to focus on the celebration and the fun side of Christmas, this year's SID partly reveals a sad reality that most Filipinos now experience: it has become normal for Filipino families to celebrate Christmas even while some members may be geographically apart.
ADVERTISEMENT - CONTINUE READING BELOW
Years ago, the completeness of the family at Christmastime is the number one requisite for the season. But now, the need to earn a living abroad makes it more difficult for most families to become complete at the Noche Buena table.

And "Da Best ang Pasko" tells us its OK even though family members are not physically present for the traditional Christmas feast.


As Pinoy-Canadian Youtube sensation Maria Aragon puts it in this year's jingle, "ang damdamin ay tumatawid, sa lupa, sa dagat o sa langit." And this is why, this year's SID has also been the most relevant one for ABS-CBN so far.
Television is one of the ways Pinoys abroad can maintain their connection with their motherland. Shows on Philippine TV (not just ABS-CBN through its The Filipino Channel but other networks exploring this venture as well) have done a good job in making many of them feel at home, and not just during the Yuletide season.
With this theme, it is only appropriate for them to get Maria Aragon to sing the "Da Best ang Pasko ng Pilipino" theme song. She's young and she became famous through the Internet, another channel for Filipino families to be united although virtually. She's global but she looks and sings very Pinoy. And most of all, she's a product of the proverbial Pinoy migration dream.

This year's Christmas SID is far from perfect. We won't mention it on this review anymore, but there's one Christmas SID ABS-CBN did in the past that has become a benchmark of whatever they did next. The 2011 Christmas SID has not achieved the same unforgettable effect. The song needs a few repeats before one gets used to it, but when the listener finally gets it, it's when the song becomes more meaningful.
ADVERTISEMENT - CONTINUE READING BELOW
Splitting the screen to juxtapose scenes of Pinoy Christmas at home and Pinoy Christmas somewhere else around the world is a bit expected and common of any video, TV commercial or even print ads featuring OFWs. Also, we have yet to see an alternative for their annual clips of ABS-CBN stars singing together in front of Christmas decors. But if there's one thing that's changed, it's their gentle and restrained way of singing the song, far from the hyper and seemingly "energy-drink charged" way of singing in previous vids.

As for the stars, it looks like this year, it's more about the regular people than the artistas. No one celebrity hogged the precious SID screen time. Several people also noted the absence of Megastar Sharon Cuneta (who's rumored to transfer networks ) and a lack of senior powerhouse stars towards the end frames. ABS-CBN's roster, as we can see, is now officially taken over by the younger generation.

With all of these considered, we appreciate ABS-CBN's efforts just the same. We are happy to watch it because we know they have put a lot of thinking and effort into it. Like the simbang gabi, gift-giving, noche buena, etc. that it shows, the ABS-CBN Christmas Station ID, is in itself, a Christmas tradition Pinoys watch out for, wherever they are in the world.