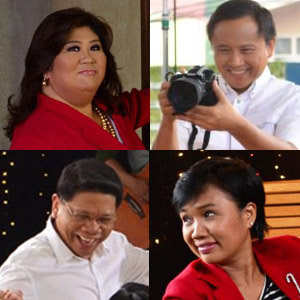 ---
Majority of Filipino televiewers will probably agree that GMA News TV's 2011 Christmas Station ID comes across as more satisfying, more meaningful, and better produced than those released by its mother station in the recent past.

But the question is, does GMA News TV need a Christmas station ID done and presented in this manner? Featuring the voice of rising GMA star Julie Anne San Jose, the SID is a feel-good music video far from what we expect of a news channel that is thought of being the bringer of bad news. The song even mentioned that they bring "balita ng pag-ibig."

Basically, it is just GMA News TV's way of saying "Merry Christmas!" to its viewers and thanking them for catapulting the channel to the top before it even marked its first birthday. With the theme "News TV ang Kasalo sa Pasko," the SID shows the channel's news personalities in a Christmas party together with people presumably their co-workers, families and friends.

The video shows scenes from a typical Christmas party, with all the yummy food, gifts and decors. After the Christmas activities there is a major cliffhanger— a buildup of something Jessica Soho revealed that made everybody, especially Mel Tianco, blurt out a big "WOW!"— which turns out to be a lighted wall mural saying "Maligayang Pasko."

So what is this Station ID for? Maybe it's a way of showing the lighter and more human side of news personalities. In the SID, we see them in a Christmas party not different from the ones we hold in our very own schools or offices. There are guests who bring in lots of food. There are song and dance numbers, there's a fishbowl for the raffle and of course, what's a party without a newspaper dance? The GMA News TV party even has the designated DSLR-bearing photographer. Typical, isn't it?
ADVERTISEMENT - CONTINUE READING BELOW

Maybe, it's also GMA News TV's way of differentiating their brand of news, which is usually delivered by people in suits, with a tendency to be stiff and formal. But this particular news channel veers away from traditional news reporting. It presents news as a reflection of Pinoy life, and it promotes the informed lifestyle— yes, lifestyle is the keyword. And it makes news more appealing to everyone.

It could also be that the message it's trying to bring is that Christmas is the time for us to be together and be merry, despite all the bad news we see and hear every day. It's the time of the year that we're allowed to just focus on the positive, and spread love and positive vibes to everyone around us.

Having said that, I find it bit uncomfortable seeing anchors, especially the ones who usually present hard news ham it up in front of the camera for a Station ID. I wouldn't say it's "unbecoming" but it is a little "showbiz" reminiscent of what artistas do in the station IDs of a rival network.
What the GMA News TV Christmas station ID proved is that in the Philippines, news is showbusiness, too.