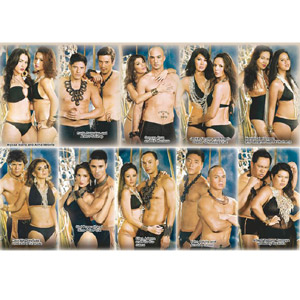 ---
The fourth season of Survivor Philippines dubbed as Celebrity Doubles Showdown is charged with explosive challenges, deceitful twists and fierce adventures that await the twenty chosen castaways. The reality show is shot entirely in San Vicente, Palawan, otherwise known as the "other paradise somewhere in the Pacific."
The celebrity castaways are composed of Philippine Volcanoes' Arnold Aninion and John Odulio; StarStruck alumna Stef Prescott and model-actor Gino dela Pena; former couple singer Geneva Cruz and DJ host KC Montero; former actress Jackie Forster and radio DJ Angelicopter; former That's Entertainment alumni Chuckie Dreyfuss and Isabel Granada; former beauty queen-actress Maria Isabel Lopez and daughter Mara Yokohama; couple Ellen Adarna and Filo Cucenco; celebrity cousins Arthur Solinap and Carlo Gonzales; best friends Startalk host Alyssa Alano and former Sexbomb dancer Aifha Medina and comedic pair Maey Bautista and Betong Sumaya. The contenders are vying for the 3 million cash prize at stake.
During its premiere season telecast aired last night, November 14, all twenty castaways wwere holed up in a water cage. Survivor Philippines host Richard Gutierrez stepped out of a water plane before giving instructions: " Gusto kong ipaalala sa inyo sa season na ito, double hirap ang challenges kaya mga kapares ninyo maari ninyong asahan sa lahat ng pagsubok. Pero sa bandang huli, baka sila rin ang makakalaban ninyo."
"Pero bago kayo makarating doon, kailangan makaalis muna kayo sa water cage na ito. Hanapin ninyo ang dalawang exit points sa ilalim ng cage. Kailangan kalasin ang lubid at makalangoy papunta sa isla.
"Sa inyong paglangoy papunta sa isla, may makikita kayong nakalutang. Ang laman ng sakong yan bagay na magpapagaan ng buhay ninyo sa isla."
He added, "Pagdating ninyo sa isla, may naghihintay na dalawang immunity bracelets sa immunity tree. Kailangan sabay kayo ng partner ninyo sa plank kung nasaan ang strap na itatali ninyo sa inyong mga kamay para magkadikit kayo ng inyong partners. Nasa sa inyo na yan kung anong diskarte ang gagawin ninyo. Uunahin ninyo ba na kunin ang mga sako at papagaan ang tribo ninyo o unahin ninyo ang mga sarili at makuha ang immunity bracelet?"
ADVERTISEMENT - CONTINUE READING BELOW
Some of the castaways are competent swimmers while others can barely keep afloat. Since the "water cage" was quite a distance from the shore, a number of them needed help. Actors Chuckie Dreyfuss and Jackie Forster were among those given flotation devices.
Athletes John Odulio and Arnold Aninion reached the shore first; they strapped themselves, grabbed a pole and hit the small pots attached to the immunity tree. The pots contained two immunity bracelets.
Former couple KC Montero and Geneva Cruz as well as the other castaways scrambled to find the immunity bracelets.
John and Arnold became the first pair to locate the immunity bracelet. The second bracelet was found by former actors Chuckie Dreyfuss and Isabel Granada.
The Survivor host announced that it was time for the two groups to be formed: the "Bulan" (meaning goddess of the moon) tribe and the "Tala" (goddess of the stars) tribe.
Since John, Arnold, Chuckie and Isabel were lucky enough to find the immunity bracelets, they were designated to represent "Bulan" and "Tala" tribes respectively. Each pair earned the privilege to select group members.
John and Arnold selected the tandems of Stef Prescott and Gino dela Peña, KC Montero and Geneva Cruz, Mara Yokohama and Maria Isabel Lopez, as well as Alyssa Alano and Aifha Medina for the "Bulan" tribe.
Meanwhile, cousins Carlo Gonzales and Arthur Solinap, couple Ellen Adarna and Filo Cucenco, best friends Jackie Forster and Angelicopter, comic duo Maey and Bentong comprise the "Tala" tribe together with Chuckie and Isabel.
Each tribe is tasked to build a home, fire and find food. The "Tala" tribe was furnished a map and had to look for their home not far away from the "Bulan" tribe's territory.
What challenges await the castaways? Will they get along with each other? Who will form alliances within the two tribes? Survivor Philippines: Celebrity Doubles Showdown airs weeknights on GMA-7 after Munting Heredera.
ADVERTISEMENT - CONTINUE READING BELOW