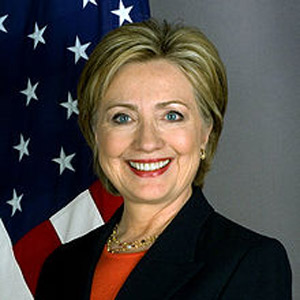 ---
PRESS STATEMENT FROM GMA NEWS TV:
"Secretary of State Hillary Rodham Clinton will be live and online in Manila on Wednesday, November 16, at a public forum featuring a wide array of bloggers, social media personalities and campus journalists. The event will be aired live exclusively on GMA News TV, and livestreamed (gmanews.tv/livestream) on GMA News Online. The exact time and place will only be announced shortly before the start of the event on Wednesday.
"Billed as US Secretary of State Hillary Rodham Clinton: A Conversation in Manila, the forum is being described as "ground-breaking" by Clinton's advance team for its youth-oriented social media component, breaking away from the formalities of many of the globe-trotting Clinton's public events. Questions for Secretary Clinton will be fielded via YouScoop, Twitter, Facebook, Skype, and SMS. Members of the young audience will also ask questions.
"The forum will be moderated by GMA News anchors Vicky Morales and Howie Severino, who is also Editor-in-Chief of GMA News Online. GMA News TV program host Ramon Bautista will help keep the audience lively. Users can participate in the event by following @gmanews on Twitter and Facebook (Facebook.com/gmanews), where they can both send questions and feedback. Official hashtag #SecClintonManila
"Secretary Clinton is visiting Manila as part of a high-profile Asia-Pacific tour that began with the APEC Forum in Hawaii, which President Noynoy Aquino also attended. From Manila, she will move on to flood-stricken Bangkok before attending the East Asia Summit in Bali, Indonesia.
"While in Manila, she will also meet with President Aquino and attend commemoration rites for the 60th anniversary of the US-Philippines Mutual Defense Treaty."
Ed's Note: When content falls under "Press Statement," this means that the material is fully and directly from the company itself. The use of open-and-close quotation marks to envelope the entire text shows as much. This also means that PEP is not the author of the statement being read. PEP is simply providing the information for readers who may be interested.
ADVERTISEMENT - CONTINUE READING BELOW