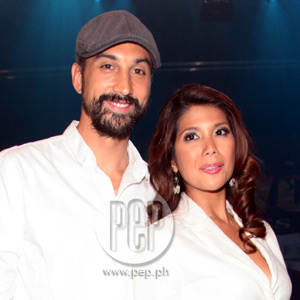 ---
On days 1 and 2 of GMA-7's reality show, Survivor Philippines Celebrity Doubles Showdown, the castaways of the Bulan and Tala tribes were busy building shelter and finding food in their campsites. Most of the castaways tried to establish rapport with each other.
The mood is light at the Tala tribe where everyone seems to be observing and adjusting with every one else. Chuckie Dreyfuss observed, "I think Filo [Cucueco] is the one taking charge in terms of delegating sa mga gagawin."
Arthur Solinap and Carlo Gonzales found Angelicopter "very vocal" about giving instructions on house building.
Arthur said, "Nangingibabaw yung pagiging vocal ni Angelica."
Isabel Granada pointed out in amusement: "[Si] Ellen, para siyang bata."
Comedian Betong Sumaya poked fun at his fellow tribemates who were always speaking English. "By God, they're speaking English. And I don't know everything. Yun ang naramdaman ko...parang mahirap matantiya."
Meanwhile, viewers were also able to witness some romance and heavy drama at the Bulan tribe.
Aifha Medina and athlete Arnold Aninion seemed to be flirting with each other "for fun." But that it turned out that Aifha was having doubts about staying in San Vicente, Palawan, where the castaways were staying. The former Sexbomb dancer contemplated about quitting the game and told team partner Alyssa Alano about it.


Aifha said, "Tahimik lang ako. Iniisip ko kung mag qui-quit na lang ako para di ako abutin ng gabi [at] dito matutulog. At least, makakauwi na ako, matutulog ng maayos."
Alyssa expressed her dismay at her partner's sentiments. "Parang na-disappoint ako sa sinabi niya, para akong na-hurt...parang siya ang magde-decide kung ano ang mangyayari sa amin...sobrang sinasakyan ko na lang yung ugali niya. Grabe..."
GENEVA BREAKS DOWN. The day became more drama-filled when vegetarian singer Geneva Cruz admitted that she wanted to pull out of the game. She and her partner, KC Montero, had a heart-to-heart talk about her decision.
ADVERTISEMENT - CONTINUE READING BELOW
Geneva tearfully admitted, "This is not real. I absorb everything around me...I did everything to help. I cannot do this...it's money, yeah. You wanna win. I got nothing...I am not going to make any effort getting alliances."
KC asked directly, "So you are gonna quit?"
Geneva replied, "This is my first day and I'm falling apart. Everything is against the things that I believe in. I know that this is not real. I know at the end of the whole thing, this is just a game. And I know what's gonna happen."
When KC left, Arnold appeared and tried to console Geneva. Geneva adamantly told him, "Go away! I'm not gonna change my mind. I can't play this game. I want to win this game with him. He [KC] is selfish. He's gonna get you guys too, you know. I'm not gonna change my mind."
Geneva and KC continued their dialogue along the beach shore. While Geneva was writing something on the sand, she pointed to KC, "You're gonna hate me for the rest of your life." Geneva then wrote her son's name "Heaven" on the sands of Palawan.
KC stated, "You must be doing this for some reason. It's written here. Heaven."
Geneva shot back, "Ask my son. Ask your son. Would he rather see his mother suffer and not fight for what she believes in or the P3 million pesos? You know him more. You know what he is gonna say..."
KC was visibly disappointed and upset with Geneva's decision since he wanted to stay in the game.
While waiting for their ride back, KC hugged Geneva.
The Fil-Am DJ/host told Geneva that he wanted to say good-bye to the other castaways. But this gesture pissed off the singer. She went ballistic and told KC, "You only care about yourself. You're supposed to protect me here. I told you I cannot anymore...they're filming me."
ADVERTISEMENT - CONTINUE READING BELOW
Geneva and KC stayed for the night since the boat would come the following day.
Resident psychologist Ali Gui spoke to the former couple and threshed out issues. Geneva changed her mind and decided to "stay" for the time being.
The singer lambasted the filming crew by saying, "This is real life. You're taking advantage of people's feelings."
Dr. Ali Gui explained, "When she told me that she will think about things, the game is played when you have to vote out people, she told me personally she is not into it.
"No emotions. Actions. Manggaling naman sa kanila. She is very watchful and careful na baka di siya mag-iingat sa sarili niya at ma-hype iyan ng media. So she wants to quit."
Geneva further explained, "I quit because I don't want to end up hating KC. I don't think 3 million pesos and being named as Sole Survivor is all worth the pain that I am feeling right now. I just don't want to hate KC."
She added, "You just don't know how difficult it is when your heart is breaking. It's difficult to fight everyone. I am just like everybody else. I [get] hurt too...leaving my family..."
At this point, one of the show's producers asked the former couple, "But if we allow you to play the game alone, would you continue the game?
KC, who really wants to be part of Survivor, stressed, "I can play alone. I can stay."
The show producer asked, "Geneva, what do you think about his decision?"
Geneva remarked, "I knew he was gonna say that. He doesn't really care about me. He wants to win."
KC: "That's not true..."
Geneva: "No, you don't love me anymore."
Dr. Gui further noted, "She knew very well that KC wanted to join the game. Whether she doesn't see that kind of reciprocation na ini-expect niya from KC doon naman yung card niya nalalabas, 'Ok I'm going to quit.'"
ADVERTISEMENT - CONTINUE READING BELOW
Prior to Geneva's departure, the three of them [Geneva, KC and Dr. Gui] continued to have a discussion. Geneva continued to be emotional.
While addressing Dr. Gui, she pointed out, "I cannot play this game, Doktora. Pinahiya na niya sa buong bansa. Wala na akong career dito sa Survivor. I cannot play this game. Sana naandito na yung boat. Nahihiya na ako sa balat ko. Hiyang-hiya na ako.Paano mo sinasabing pagmamahal, nakikita mo yung asawa mo, hirap na hirap na damdamin, gusto mo pa ring maglaro. Maging winner ng survivor at manalo ng 3 million pesos. Mas pinipili niya 'yon. He chose that, choosing to win that, yung title at yung pera na 'yon kaysa sa akin.
She continued, "No doktora. You don't understand how I feel. You don't even know what we are talking about. It's just him and me. He doesn't feel anything. This is not a game anymore when someone is getting hurt...Our whole family is hurting..."
After saying her piece, the singer walked toward the camera and tried to push it away.
Geneva finally boarded the boat minus KC who decided to stay and play the game.
KC remarked, "I'm the wooden duck here. Everyone has partners. I'm the odd ball."


CHOOSING PRIVACY. On November 14, the night when Survivor Philippines Celebrity Doubles Showdown aired its pilot episode on GMA-7, Geneva posted this update on her Twitter account: "will choose the privacy of my family anytime over 3 million pesos, thank you."


Survivor Philippines Celebrity Doubles Showdown airs weeknights on GMA-7 after Munting Heredera.