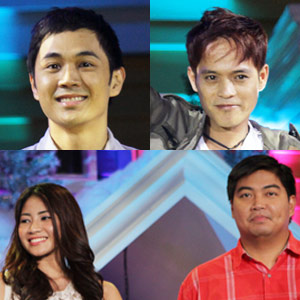 ---
After staying in the highly monitored house for the past three weeks, the housemates of Pinoy Big Brother Unlinight experienced their first nomination night last night, November 20.


The four housemates who are in danger of being evicted from ABS-CBN's reality show are:

Slater Young (Hotshot Engineer of Cebu) - Automatic Nomination (he backed off from doing a secret task assigned by Big Brother)
Marnill "Kigoy" Abarico (Bay Diskarte of Ormoc, Leyte)- got 15 points
Anatoly "Tol" Chua (Driver Sweet Father of Surigao del Sur) - got 9 points
Diane Aquino (Seksi Bossing ng Quezon City) - got 7 points
UNLIDAY UPDATES. In the other house of PBB, the Unliday housemates already bid farewell to Kulas Alon and Ronnel Jake "RJ" Padilla.


Kevin "Kulas" Alon is the Poging Petiks ng La Union. He was voted out when the housemates were asked to choose who among the three Power Strangers was the least funny. Kulas received six votes (represented by corn cobs), Reg got six votes while RJ got one.


RJ, the Astiging Kenkoy is actually the son of Robin Padilla's brother, Rommel. RJ violated Big Brother's rules when he allowed housemates Lordwin Claveria and Unad Hernandez take a photo of him without his mask. RJ also accidentally took off his mask while sleeping.

Meanwhile, Reginald "Reg" Pineda, the Pilyong Rakitero ng Quezon City, became an official housemate for getting 8 "likes" from the PBB Unliday housemates. He proved to be very patient as he underwent various challenges inside the PBB house.
BIGGETIN LOVETEAM. Meanwhile, a "love team" has been formed in Pinoy Big Brother Unlinight. Dubbed "BIGGETin," it refers to Joseph Biggel and Tin Patrimonio. Biggel and Tin have formed a certain "closeness" bordering on the romantic side. Biggel, who admitted that Tin is his "crush," is very expressive of his feelings for Tin.
ADVERTISEMENT - CONTINUE READING BELOW
It is highly evident that they care for each other and cherish their friendship. Tin discovered that Biggel hasn't eaten ice cream since he was a child. As a result, Tin asked Big Brother to give her a a task to accomplish in exchange for ice cream to be given to Biggel.
Kuya told the daughter of Alvin Patrimonio: "Gusto ko magkaroon kayo ng exchange of knowledge. Turuan ka ni Biggel at tuturan mo siya."
In one of the many odd jobs Biggel handled in the past, the "Mangingisda ng Marinduque" worked as a makeup artist for the deceased. He taught Tin how to apply makeup on a dead person. In return, Tin taught Biggel what to say to Tin's father, Alvin Patrimonio, who will be celebrating his birthday the next day. After the accomplishment of both tasks, Kuya surprised Biggel with a ½ gallon of ice cream. Biggel exclaimed, "Wow naman, Kuya, ang laki na [ice cream]. Biggel was ecstatic with the gift and readily shared it with Tin.
The PBB Unlinight housemates also had the chance to meet the 3Gs: Cindy Miranda (Pretty Miss Perfect of Nueva Ecija), Rhea Angela Lim (Sexy Single Mom of Pampanga) and Deniesse Joaquin (the Independent Woman of Sampaloc).
There was a small welcome swimming party wherein the aspiring housemates all wore bikinis. During the party, Biggel got a little "drunk" and he couldn't help but express his real feelings. He said, addressing Tin, "My heart is very high voltage to you!"
In one of their conversations over ice cream, Biggel asked Tin, "Ano ang tingin mo sa akin?
Tin commented, "Everyday tayong magkasama."
Biggel said, "Okay lang kung ano, basta masabi ko lang. Ewan ko kung tama ang sabi ko. Kasi alam mo naman...di ako marunong." After disclosing his feelings, his spoon was shaking so hard, he dropped it and and spilled some of the ice cream. He and Tin laughed about it.
ADVERTISEMENT - CONTINUE READING BELOW
Tin opened up to him by saying, "Ikaw ang first time sa akin nagsabi ng kaharapan. Ako naman to be honest, pri-nomise ko sa sarili ko, na di ako ma-in love."
Biggel responded by telling Tin, "Ganoon din ako. Sinabi ko rin 'yan."
ALVIN PATRIMONIO IN THE HOUSE. The following day, the housemates were "greeted" with "basketball-inspired" morning call. Some of the housemates gathered around Tin and talked about her father's birthday. That day, Tin and Biggel incessantly talked about her dad. Biggel told Tin, "Basta suwerte ka. Tuwang-tuwa ako para sa 'yo. Tin agreed and said, "Sobrang swerte ko sa parents ko." He further added, "Sabi ko sa yo, Tin. Ang magulang ay dapat mahalin at respeto ng mga anak."
Kuya gave a special task to Biggel that will benefit Tin. He has to "shoot" pingpong balls inside 16 plastic cups using a tennis racket. The number of balls inside the cups would indicate the number of minutes Tin can talk through texting with her father. Kuya allowed Divine to help Biggel accomplish the task. Biggel and Divine were able to shoot 12 balls.
Kuya requested Tin to see him and told her that she can communicate with her dad through text. Tin and "The Captain" texted each other although Alvin was actually hidden there in the 'looban.' When the time was over, Tin felt homesick and shed tears. Kuya asked Tin, "Do you love your dad?"
Tin answered "Siyempre po, more than any guy in the world."
After leaving the confession room, Tin announced to the housemates that they were going swimming at the "resort." Before going there, they were all blindfolded. However, Biggel was left behind. Kuya surprised him by revealing that he had a one-on-one session with Alvin Patrimonio, Tin's father.
"High voltage ba ang puso mo?" was "The Captain's" opening greeting to Biggel.
ADVERTISEMENT - CONTINUE READING BELOW
Alvin goodnaturedly revealed his "guidelines" to all those courting his daughter. "Kailangan mas matangkad sa akin. Pangalawa, dapat mas pogi sa akin...kailangan mas magaling sa akin, sa basketball."
As they played hoops inside the looban, Alvin also gave advice to Biggel about life. "Ang basketball naman parang buhay din yan. Kung ano ang binubuhos mo sa basketball, magagamit mo din sa buhay. Basta tiyaga, di ba?"
He added, "Palagi kong nire-remind si Christine gandahan niya ang pakikipagkaibigan..."
Biggel said, "Mabait po si Tin." Alvin added, "Dapat ikaw rin."
After shooting some hoops, Alvin finally remarked, "Kuya, pasado na ito. Kay Tin, ewan ko." Both of them laughed.
Kuya summoned both them into the confession room. Alvin spoke to Biggel once again.
"Kay Tin naman, siyempre, princess namin yon, pwede alagaan mo siya, ang pakikipagkaibigan ninyo. Doon naman lahat nagsisimula, di ba? Good luck sa 'yo. Alam ko, kaya mo yan. Huwag kang susuko," was Alvin's sound advice to the housemate.
When Biggel left, Alvin gave his observations about Biggel, saying "Di naman po masamang magka-crush o magkagusto. But it's all up to Biggel. Si Biggel pa rin po 'yan. Paano niya ito labanan o ma-challenge. Basta sa na-feel ko with Biggel, mabuting tao siya, mabait siya."


In the microblogging site Twitter, Alvin Patrimonio and highvoltage became some of the most talked about topics.
3Gs TO JOIN PBB? The three reserved housemates's mission is for them to be "accepted" by the male housemates of the "looban." One of the 3Gs, Rhea, happened to celebrating her birthday inside the PBB house. The male housemates prepared a special surprise for her. It was another swimming party. One of the housemates serenaded Rhea. While serenading her, each of the boys presented her a rose in their own unique ways. Some of them took off their shirts and did "macho dancing." The grand finale of the surprise was a cake, presented by Kigoy Abarico, who did a comical macho dancing act, with a rose in his mouth.
ADVERTISEMENT - CONTINUE READING BELOW
Rhea's birthday wish that night: "Sana maging official housemates na kami. As of now, hindi pa kami official housemates. Actually, until tonight na lang yung chance namin na maging housemates."
As if on cue, Slater Young took the opportunity to accomplish his special task. He told the male housemates, "They're waiting for us to invite them to be official housemates."
After the celebration, Kuya requested the boys to the confession room. Kuya inquired from them in they are in favor for Cindy, Rhea and Deniesse to become official housemates. All of them raised their hands.
Big Brother agreed that Cindy, Rhea and Deniesse, can stay on one condition: they will have to replace three of the original female housemates in the "looban." The male housemates have to make a decision.


As a result, the guys chose Wendy Tabusalla, Joya Genzola and Diane Aquino to be the ones to be replaced.
During the November 20 episode, it was revealed that the housemates voted for Deniesse to be retained in PBB.


However, Big Brother didn't actually evict Wendy, Joya and Diane since they were only sent to a beautifully-furnished house with a living room, spacious kitchen and appliances to make life easier and more comfortable.
Also joining them in this house were former PBB Unliday housemates Seichi Ushimi and Jaz Manabat.
DEMOLITION NOTICE. The PBB Unlinight housemates were given a demolition notice saying that their 'shanty' would be dismantled. Kigoy reacted very strongly and vowed to protect their 'looban.' Tol also admitted that he became very angry since he has experienced losing a house in the United States.
A group of men did come and tore apart the wooden structures and beds in the 'looban.' The housemates could only watch and cry as they placed their stuff inside sacks. They were soon blindfolded and made to ride a vehicle that brought them to the beautifully-furnished PBB house.


Big Brother said that after weeks of residing in cramped quarters, they will now stay in his house. The PBB Unlinight housemates were also reunited with Wendy, Joya and Diane as well as Seichi and Jaz.
ADVERTISEMENT - CONTINUE READING BELOW