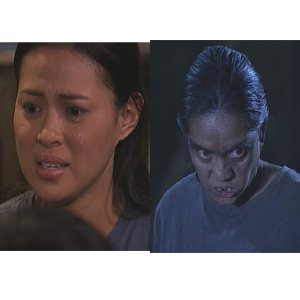 ---
Beauty queen turned TV and movie personality Precious Lara Quigaman and seasoned actress Sylvia Sanchez topbill this Saturday's (November 26) "Aswang" episode of Maalaala Mo Kaya.
A touching story about an extraordinary friendship, the episode highlights how Analina (Precious) sees the good in Poying (Sylvia) who is feared by their community for being an 'aswang.' Despite Poying's unusual behavior, Analina treats Poying as part of her family.
Directed by Jerry Lopez Sineneng and written by Joan Habanna, the "Aswang" episode also features Kathleen Hermosa, Dionne Monsanto, Gerald Madrid, Lui Villaruz, Maliksi Morales, Lui Manansala, and Khaycee Aboloc.
Maalaala Mo Kaya (MMK) airs every Saturday night, after Junior Master Chef Pinoy Edition on ABS-CBN.
SHARE THIS STORY MMK" data-url="https://www.pep.ph/guide/tv/9375/precious-lara-quigaman-and-sylvia-sanchez-will-topbill-the-aswang-episode-of-mmk" data-desc=""Maalaala Mo Kaya" will tackle the unusual friendship of two women." data-image="https://contents.pep.ph/images2/guide/daa3813a1.jpg"> MMK" data-url="https://www.pep.ph/guide/tv/9375/precious-lara-quigaman-and-sylvia-sanchez-will-topbill-the-aswang-episode-of-mmk" data-desc=""Maalaala Mo Kaya" will tackle the unusual friendship of two women." data-image="https://contents.pep.ph/images2/guide/daa3813a1.jpg"> MMK" data-url="https://www.pep.ph/guide/tv/9375/precious-lara-quigaman-and-sylvia-sanchez-will-topbill-the-aswang-episode-of-mmk" data-desc=""Maalaala Mo Kaya" will tackle the unusual friendship of two women." data-image="https://contents.pep.ph/images2/guide/daa3813a1.jpg">
SHARE THIS STORY
MMK" data-url="https://www.pep.ph/guide/tv/9375/precious-lara-quigaman-and-sylvia-sanchez-will-topbill-the-aswang-episode-of-mmk" data-desc=""Maalaala Mo Kaya" will tackle the unusual friendship of two women." data-image="https://contents.pep.ph/images2/guide/daa3813a1.jpg"> MMK" data-url="https://www.pep.ph/guide/tv/9375/precious-lara-quigaman-and-sylvia-sanchez-will-topbill-the-aswang-episode-of-mmk" data-desc=""Maalaala Mo Kaya" will tackle the unusual friendship of two women." data-image="https://contents.pep.ph/images2/guide/daa3813a1.jpg"> MMK" data-url="https://www.pep.ph/guide/tv/9375/precious-lara-quigaman-and-sylvia-sanchez-will-topbill-the-aswang-episode-of-mmk" data-desc=""Maalaala Mo Kaya" will tackle the unusual friendship of two women." data-image="https://contents.pep.ph/images2/guide/daa3813a1.jpg"> MMK" data-url="https://www.pep.ph/guide/tv/9375/precious-lara-quigaman-and-sylvia-sanchez-will-topbill-the-aswang-episode-of-mmk" data-desc=""Maalaala Mo Kaya" will tackle the unusual friendship of two women." data-image="https://contents.pep.ph/images2/guide/daa3813a1.jpg">