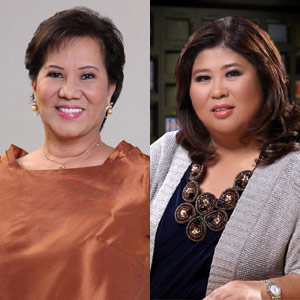 ---
GMA Network Senior Vice President for Entertainment Wilma V. Galvante, Vice President for Program Management Jose Mari R. Abacan, Vice President for GMA Worldwide Roxanne J. Barcelona, and Vice President for News Programs Jessica A. Soho were selected as members of the panel of jurors in the 39th International Emmy Awards.
Galvante participated as a juror in the final round of judging for the Best Actress category, where she reviewed entries from Brazil, Hong Kong, Sweden, and United Kingdom. She was also a judge in the Emmys in 2006 for the Best Comedy Program category, and in 2008 for the Best Actor category.
Soho, meanwhile, was tasked to evaluate entries in the English-Language Current Affairs category, which include entries submitted by news organizations from the United States, United Kingdom, Canada and Australia. This is the second time in a row that the award-winning broadcaster was chosen to judge in the Emmy Awards after being a judge in the Documentary: Asia/Africa/Middle East category last year.
ADVERTISEMENT - CONTINUE READING BELOW
Abacan also returned as a juror in the Comedy category. Nominees in this division include semi-finalists from each of the four Emmy judging regions, namely, Europe, Latin America, English-Language, and Asia/Africa/Middle East. Last year, he was a judge in the TV Movie/Mini-Series category.
For the fifth time, Barcelona joined the panel of jurors, this time in the final round of judging for the TV Movie/Mini-Series category. She likewise reviewed the regional semi-finalists from the four abovementioned regions. The last time she judged the International Emmys was in 2008 for the TV Movie/Mini-Series category.
Known as the Oscars of the television industry, the annual International Emmy Awards is organized by the International Academy of Television Arts and Sciences, a worldwide organization composed of leading media and entertainment figures from all sectors of television including Internet and mobile.
As it aims to recognize excellence in international television programming, the award-giving body gathers only the most knowledgeable TV practitioners from various fields of expertise to screen and select the winners.
ADVERTISEMENT - CONTINUE READING BELOW
The 39th International Emmy Awards was held on November 21, 2011 in New York City.