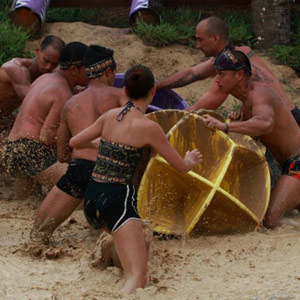 ---
Witness this season's most controversial and heated tribal council as the 11 castaways of Tala tribe take the hot seat in Survivor Philippines Celebrity Doubles Showdown.


This Monday, November 28, Survivor host Richard Gutierrez heats up the night with his strong remarks as he reminds the castaways that Survivor Philippines Celebrity Doubles Showdown is a game designed to "outwit, outplay and outlast—not to outwhine."
Richard told the castaways: "Stop whining! if you think that this production team is trying to put your life in jeopardy then quit. Stop saying that you're gonna quit. Tell me right now, who wants to quit?"


Facing Richard in the tribal council are the Tala tribe tandems of Carlo Gonzalez and Arthur Solinap, Maey and Betong, Jackie Forster and Angelicopter, Ellen Adarna and Filo Cucueco, Isabel Granada and Chuckie Dreyfuss, and Maria Isabel Lopez.


Former Bulan member Maria Isabel transferred to the Tala tribe since she and daughter Mara accepted the temptation reward. As a result, they both have immunity bracelets but they will have to be separated.


Last week, the Tala tribe lost in the muddy immunity challenge. A huge wooden ball even rolled over one of its castaways, Carlo Gonzalez. This caused the members to be emotional and protective of their tribemate.


How will this much talked about tribal council affect the Tala tribe? And with three members of the tribe with immunity bracelets, who will be kicked out of the island?


Find out as Survivor Philippines Celebrity Doubles Showdown heats up this Monday night, after Munting Heredera, on GMA Network.