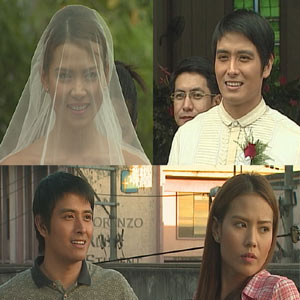 ---
The popular quote 'True love conquers all' will be proven true this Saturday, February 11, as Maalaala Mo Kaya presents the love story of a half Korean-half Pinoy named Lenny (Alfred Vargas) and his conquest in pursuing his love for Yvonne (Bianca Manalo).
After being turned down several times, Lenny's persistence when Yvonne became his girlfriend. Just when Lenny thought everything was going well for both of them, he proposed to Yvonne thinking that she would be willing to marry him. Yvonne did accept his proposal but three days before their wedding, she got cold feet and ran away. Frustrated, Lenny sought the help of a witch doctor to make Yvonne fall for him through a love potion. Will the potion work or will it drive Yvonne away from him?
MMK's "Love Potion" episode also features Rio Locsin, Bembol Rocco, Alfred Labatos, Bea Nicholas, Mark Joshua Sayarot, Richard Yap, Wendy Valdez and Joyce So. It was researched by Ayoy Ramos, written by Joan Habana, and directed by Lino Cayetano.
Don't miss the month-long celebration of love this February in the longest running drama anthology of Asia, Maalaala Mo Kaya (MMK), every Saturday night, after Junior Master Chef Pinoy Edition.
SHARE THIS STORY Maalaala Mo Kaya" data-url="https://www.pep.ph/guide/tv/9792/alfred-vargas-and-bianca-manalo-topbill-love-potion-episode-of-maalaala-mo-kaya" data-desc="Alfred's character resorts to using a love potion to make his fiancee stay in love with him." data-image="https://contents.pep.ph/images2/guide/ed04a0a89.jpg"> Maalaala Mo Kaya" data-url="https://www.pep.ph/guide/tv/9792/alfred-vargas-and-bianca-manalo-topbill-love-potion-episode-of-maalaala-mo-kaya" data-desc="Alfred's character resorts to using a love potion to make his fiancee stay in love with him." data-image="https://contents.pep.ph/images2/guide/ed04a0a89.jpg"> Maalaala Mo Kaya" data-url="https://www.pep.ph/guide/tv/9792/alfred-vargas-and-bianca-manalo-topbill-love-potion-episode-of-maalaala-mo-kaya" data-desc="Alfred's character resorts to using a love potion to make his fiancee stay in love with him." data-image="https://contents.pep.ph/images2/guide/ed04a0a89.jpg">
SHARE THIS STORY
Maalaala Mo Kaya" data-url="https://www.pep.ph/guide/tv/9792/alfred-vargas-and-bianca-manalo-topbill-love-potion-episode-of-maalaala-mo-kaya" data-desc="Alfred's character resorts to using a love potion to make his fiancee stay in love with him." data-image="https://contents.pep.ph/images2/guide/ed04a0a89.jpg"> Maalaala Mo Kaya" data-url="https://www.pep.ph/guide/tv/9792/alfred-vargas-and-bianca-manalo-topbill-love-potion-episode-of-maalaala-mo-kaya" data-desc="Alfred's character resorts to using a love potion to make his fiancee stay in love with him." data-image="https://contents.pep.ph/images2/guide/ed04a0a89.jpg"> Maalaala Mo Kaya" data-url="https://www.pep.ph/guide/tv/9792/alfred-vargas-and-bianca-manalo-topbill-love-potion-episode-of-maalaala-mo-kaya" data-desc="Alfred's character resorts to using a love potion to make his fiancee stay in love with him." data-image="https://contents.pep.ph/images2/guide/ed04a0a89.jpg"> Maalaala Mo Kaya" data-url="https://www.pep.ph/guide/tv/9792/alfred-vargas-and-bianca-manalo-topbill-love-potion-episode-of-maalaala-mo-kaya" data-desc="Alfred's character resorts to using a love potion to make his fiancee stay in love with him." data-image="https://contents.pep.ph/images2/guide/ed04a0a89.jpg">