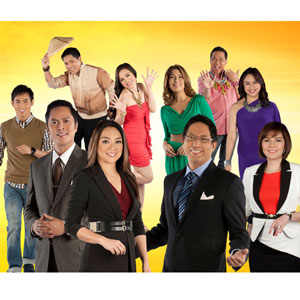 ---
It's never easy to wake up in the morning and get out of bed. TV5 is giving you a good reason to jumpstart your day with Good Morning Club airing from 5:00 to 7:30 am on weekdays. The new daytime magazine program is hosted by Paolo Bediones, Cheryl Cosim, Amy Perez, Martin Andanar, Tintin Bersola-Babao, Chiqui Roa-Puno, Pat Fernandez, Lucky Mercado, Makata Tawanan, and Shalala.
Good Morning Club gives your day a head start with all the latest news, enjoyable features, and other helpful bits of information.
Mothers and homemakers will be delighted with various segments especially catered to them, beginning with "Kumare Klub," which offers advice on different topics involving motherhood. "Kumare Tips," meanwhile, deals with other useful ideas regarding household maintenance, handicrafts, and business opportunities. Lastly, "Baon Tips" presents new baon ideas for kids, while "Luto na ba T'yang?" gives valuable tips on budgeting family meals.
Fathers won't be left behind as well with "Tatay Kong Pogi," the ultimate daddy manual on how to attain pogi points, not just physically but also by being the main man in the family.
ADVERTISEMENT - CONTINUE READING BELOW
The youth can also enjoy the show with feature segments dedicated to them like "P.O.P. (Pasok o Patok)," a one-stop-shop for the latest craze in fashion, food, gadgets, hang-out spots, and everything pop culture.
To bring the family closer, Good Morning Club also has offerings for the whole family. "Makata Adventures" explores the world of fiestas, events, tourist spots, and places families can explore together. "Ok ka Lang?," focuses on providing discussions and helpful trivia regarding health, while "Parentin" promotes good hobbies for kids and gives opportunities for viewers to send letters regarding parenting issues. "Chiqui Dance," meanwhile, serves as the daily family activity by promoting good health thru fun dance routines. Finally, "Love Hearts" aims to iron out relationship dilemmas by feasible resolutions.
Of course, mornings won't be complete without updates on the latest happenings in and out of the country. Get the freshest news and current affairs issues (Morning Balita), entertainment tidbits (Showbiz Mwah), and weather information (Pana-Panahon).
ADVERTISEMENT - CONTINUE READING BELOW
Gather the family and wake up with the Good Morning Club barkada. Join the club every day at 5:00-7:30am on TV5 (with simulcast airing over Aksyon TV).