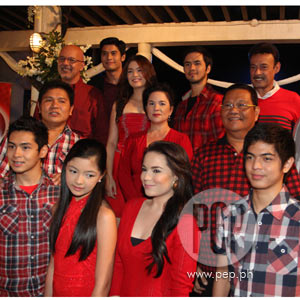 ---
Jaclyn Jose is the real star of TV5's Valiente remake.
We have seen this veteran actress countless times play either a suffering mother or a calculating villain, but never have we seen her as cartoonish as she is in Valiente. Jaclyn plays her character, Donya Trining Braganza, with almost no inhibitions. Pulling out all the stops, she is evil personified.
Valiente is a remake of a 1990s TV series of the same name. It tells of the story of two families, the Valientes and the Braganzas, and their struggle to control a hacienda. Former best friends Gardo Valiente (JC de Vera) and Theo Braganza (Oyo Sotto) are caught in the family intrigue, and both vow to fight until their last breaths.
TV5's Valiente premiered on Monday, February 13, with the introduction of the senior characters, played by Jaclyn, Mark Gil, Michael de Mesa, and Gina Alajar. The main characters Gardo and Theo, to be played by JC de Vera and Oyo Sotto respectively, are still kids in the premiere week, so these senior characters stand out.
But who stands out the most is Jaclyn. Playing a woman who came from a poor family before she married Don Armando Braganza (Mark Gil), the benevolent owner of the hacienda, the instant rise of her wealth and social status got to her head and amplified whatever ill will she had harbored since childhood.
Jaclyn plays Donya Trining like the late Heath Ledger played Joker--both know they are evil, and this knowledge lets them have a lot of fun.
There is something strangely appealing about Jaclyn's performance. She smiles a lot, like she's too happy to dish out vile lines to everyone she meets. She's angry, but the smile throws you off and scares you, like a snarling dog, ready to pounce.
ADVERTISEMENT - CONTINUE READING BELOW
But despite the large smile, Jaclyn's large eyes show something more sinister. You can see in those eyes that her character is calculated and smart. She knows that one day, she will be able to wrest control of the hacienda from her husband. She cannot be fooled.
It will be interesting to see how Jaclyn act will square off with the lead actors' performances. Will JC de Vera be able to thwart her plans, and will Oyo Sotto agree with her? Or will Niña Jose and Nadine Samonte, playing sisters Leona and Maila Braganza, be her pawns? These are some of the things to watch out for in the coming days.
For now, Jaclyn's strong performance is saving Valiente. Other actors are giving weaker performance, especially the four kids tasked to play the young lead characters namely Arvic Tan (as the young Oyo), Liane Valentino (as the young Nadine), Czarina Suzara (as the young Niña Jose), and Ross Pesigan (as the young JC). There are times when their inexperience shows up in the scenes--in the way they throw lines like reciting poems, and the way they raise their hands to act out scenes like they're playing charades--and it frustrates the viewer.
It is a good thing that Jaclyn Jose is part of Valiente, because her strong performance makes the show something to watch for in the coming days.


Valiente airs weeknights on TV5 after Wil Time Bigtime.