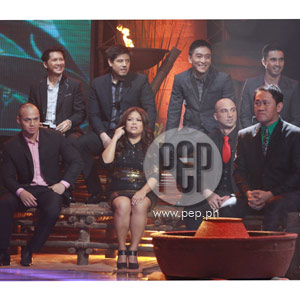 ---
Castaways of Survivor Philippines Celebrity Doubles Showdown were once again reunited in a reunion special hosted by Richard Gutierrez. The reunion special was aired on GMA-7 last Sunday, February 19.
Among those who attended were the Final Three composed of Albert "Betong" Sumaya, Stef Prescott, and Mara Yokohama. In the end, comedian Betong emerged as the winner, allowing him to win the P3 million grand prize.


(CLICK HERE to read related article)
They were joined by the jury members namely Chuckie Dreyfuss, Arthur Solinap, John Odulio, Gino Dela Peña, Arnold Aninion, Maey Bautista and the last person voted out: KC Montero.


Fellow castaways Ellen Adarna, Filo Cucueco, Geneva Cruz, Aifha Medina, Alyssa Alano, Isabel Granada, Carlo Gonzales, Jackie Foster, Angelicopter, as well as Mara's mother, Maria Isabel Lopez made it a point to attend the reunion special.
The Survivor host commented that fans of this Celebrity Doubles Showdown season were very active and heavily utilized social networking sites like Twitter.
Twitter Wars were born and several castaways have their own supporters and "haters." What is the reaction of the castaways to this barrage of comments on social networking sites?
Mara Yokohama admitted, "As much as I have haters...wala akong regrets on how I played Survivor.
Arnold Aninion remarked, "I've lots of haters...I cannot change their minds."
For Ellen Adarna, she nonchalantly said, "Mga haters ko, di ko pinapansin..."
Arnold and Ellen figured in a "Twitter war", with Arnold claiming that, Ellen called him "dishonorable."
Apart from Arnold, Ellen has an ongoing verbal feud with beauty queen-turned-actress Maria Isabel Lopez. During her stint in the reality show, Ellen described Isabel as the "cancer" in the Tala tribe.
While they were still on the island, a short verbal exchange between Maribel and Ellen occurred but was put to a halt by the host.
ADVERTISEMENT - CONTINUE READING BELOW
Richard wanted to find out from the other castaways how they are doing after Survivor.
Geneva admitted, "At the end of the day, I quit."
Isabel answered, "After Survivor, I was back in the real world. Nagkaroon ako ng post traumatic stress disorder. High profile ako before Survivor. Mas high profile after Survivor..."
In the TV special, Richard announced the results of several surveys that televiewers participated in.
Top Ten Hottest Female Survivors:
Solenn Heusaff grabbed the number 1 slot, followed by Aubrey Miles at Number 2. No. 3 Mara Yokohama and No. 4. Stef Prescott
KC reacted, "Geneva should've been there."
Top Ten Hottest Male Castaways:
1. Akihiro Sato [winner of Survivor Philippines Celebrity Edition Season 1] 2. KC Montero 3.Arnold Aninion 4.JC Tiuseco 5. John Odulio 6. John Hall. 7. Gino dela Peña 8. Suzuki. 9. Aaron Villena
Maey commented that Albert Sumaya should've made it in the list.
Top 5 "Controversial messages" / "Maaanghang na salita"
KC Montero's message at the last tribal council topped the list.
No. 2. John Odulio's comment to Albert Sumaya as being part of the Top
No. 3. Maey Bautista's message to Mara Yokohama during the final tribal council
No. 4. Betong Sumaya's emotional message to the jury
5. KC Montero's announcement that Stef Prescott's dog (named Taco Boy) already died.
Richard asked Mara's opinion regarding Maey Bautista's message. Mara revealed, "Actually, ini-expect ko na 'yon. One of the reasons ko ginawa kong silang sanglaan. Inaamin ko..."
John apologized by saying, "I was angry at that time. I hope you find it in your heart to forgive."
Betong Sumaya reacted by saying, "Sobra akong durog na durog...wala na yon. Tinanggap ko na ang apology mo."
As for his message to Stef, KC simply pointed out, "I was really upset. I wanted to hurt her [Stef] feelings. I was super mad sa jury. I was just upset..."
ADVERTISEMENT - CONTINUE READING BELOW
Top 5 Clashes at the Island
Landing on the number 1 slot was the '"fight" during the "Bola-Bola" challenge.
2. Carlo Gonzales and Maria Isabel Lopez's verbal fight
3. Bitter ex-lovers' quarrel between KC Montero and Geneva Cruz
4. Gino's comment that pissed Aubrey Miles
5. Alyssa Alano and Aifha Medina's petty quarrels
REALIZATIONS AND RECONCILIATIONS.
The Survivor host wanted to hear the castaways' comments.
Gino said, "Mali talaga ang ginawa ko, humirit pa ako, that was so off. It was my fault, I apologized to her."
On Maribel and Carlo, the fight is "over" and both of them have moved on. Carlo remarked, "Of course. That was over and done with. I did it all with due respect..." Isabel commented, "Thank you for the clarification."
Richard also mentioned that Maribel was called a lot of names at the island like "pasaway na nanay," "cancer" and salot." What was Maribel's favorite "name"?
Maribel said with a smile, "Cancer. Pinag-usapan...I always use negative things to my advantage. I always look at the positive side. I just want to make it fun..."
Regarding their quarrel on the island, Geneva recalled, "Sabi niya [KC], 'go home. I'll take care of you pagbalik ko.' It was a promise na di niya tutuparin...Na-realize ko rin na napakabuting tao ni KC..."
KC simply commented, "Geneva is a part of my life forever...Heaven, her son. I call him my own...We'll take care of each other."
Top 5 Love teams on the island
Mara Yokohama and Arnold Aninion emerged as the top loveteam
2. Chuckie Dreyfuss and Isabel Granada
3. Arthur Solinap and Maey Bautista
4. Arnold Aninion and Maey Bautista
5. Arnold Aninion and Aifha Medina.
Commenting on her teamup with Arnold, Mara Yokohama said, "We're good friends." Mom Maribel didn't believe her and felt that both of them [Mara and Arnold] are in "denial." She said "Yung dalawang yan, deny ng deny. Love blossomed in the island."
ADVERTISEMENT - CONTINUE READING BELOW
Chuckie and Isabel's close friendship was "misinterpreted" by Chuckie Dreyfuss' wife at some point. Chukie Dreyfuss clarified, "To my wife, I explained it to her, that we [Isabel and him] just close. Platonic..." Isabel added, "Naiiintindihan niya ako...we're really good friends. We've been close since we're kids..."
Maey Bautista laughed off Richard's comment on her being a "playgirl". Though she revealed with a roar of laughter that her crush in the island was KC.
Top 5 Dramatic Moments
1. "Lovers' quarrel between Geneva Cruz and KC Montero 2. "Resbak"3. Albert Sumaya's message during the "Reward Challenge"4. Jackie Forster's "quit" message 5. Mara Yokohama's tearful breakdown with Maey Bautista and Albert Sumaya.
Top 5 Villains
1. Marlon Carmen of SP Season 1
2. Maribel Lopez
3. Aubrey Miles
4. Justine Ferrer of SP Palau (Season 2)
5.Mara Yokohama.
Top 5 Unforgettable Moments
Voted number 1 was Bulan tribe's "boat accident"
2.Stef Prescott's cobra snake bite
3. Fight at the "Bola-Bola" challenge
4. Richard Gutierrez' reprimanding castaways on their behavior
On the boat accident, Gino dela Pena commented "Medyo surprising. It was so real..." Arnold added, "That was Gino's finest hour..."
Lastly, Richard announced the top ten castaways that viewers voted for a "special" edition.
Top 10 Castaways
1. Buhawi Meneses of SP Celebrity Edition Season 1
2. Marlon Carmen of SP Season 1
3. Justine Ferrer of SP Palau (Season 2)
4. Kiko Rustia of SP Celebrity Edition Season 1
5. Aubrey Miles of SP Celebrity Edition Season 1
6. Solenn Heusaff of SP Celebrity Edition Season 1
7. JC Tiuseco of SP Season 1
8. Maria Isabel Lopez
9. KC Montero
10 Jon Hall of SP Celebrity Edition Season 1