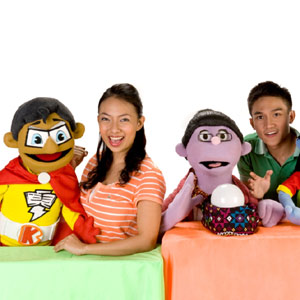 ---
Batibot, the well-loved all-Filipino children's program, has been chosen to be a finalist in the prestigious Prix Jeunesse International Festival 2012. TV5's kids' program was chosen as one of the finalists for "Up to 6 years old Non-fiction" category and is set to compete against 11 other entries from European, North and Latin American and Asian countries (Japan and India) this 25th festival Jubilee from June 1-6, 2012 in Munich, Germany.
Festival Coordinator Kirsten Schneid wrote Batibot's producer, "Prix Jeunesse International 2012 received a record number of entries. It also makes me really happy that Batibot's next generation is in the finals! The pre-selection was so tough, out of 353 only 86 programmes made it to the final round. You and your team can be really proud!"
TV5's Batibot's entry is an episode on "Art Around us: Shapes and Lines" and features basic concepts that help very young children make sense of their world: arts as well as relationships (friendship), simple basic concepts: shapes, colors, puzzles.
ADVERTISEMENT - CONTINUE READING BELOW
And since the Philippines is celebrating the 100th birth year of Jose Rizal, our national hero, this along with the other episodes of Batibot in seasons 2 and 3 have visual and other references to him and other historical figures as a contribution to developing Filipino children's basic understanding and appreciation for their own history as a people, a nation.
Batibot's themes, stories, visual and sounds focus on the essentials of living, growing and learning in a world that is both enriched and challenged by the human and cultural diversity that exists in the Philippines and the bigger world. Batibot has previously earned various Prix Jeunesse awards: one Special Jury Prize in 1990, the BMW prize for most outstanding program produced with limited facilities in 1998, the UNICEF Prize for Prix Jeunesse in 2002.
TV5's Batibot airs weekdays at 9:30am and every Saturday at 8:30am.