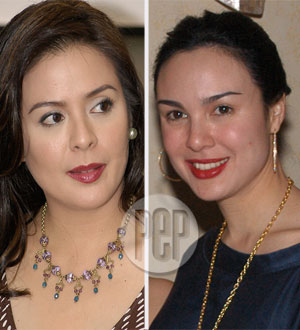 IMAGE 0
---
Are Gretchen Barretto and Dawn Zulueta feuding?

This question is bugging a lot of movie scribes as the two ravishingbeauties are reportedly not on speaking terms again. This is afterGretchen and Dawn finished shooting a pictorial for Pantene shampoothat the two are endorsing together with Ruffa Gutierrez and AngelAquino.

Apparently, Dawn was peeved with Gretchen's prima donna attitude when they were doing the pictorial.

A source, who was inside the studio where the pictorial was held, narrated how Gretchen behaved during the shoot.

It all started when Gretchen, according to our source, arrived with acoterie of alalays, three yayas and five boydguards. She also came dawwith a bagful of beauty products, all of them imported.

When she arrived, Gretchen immediately settled to a corner and askedher bodyguards to open her two big leather Louis Vuitton caches thatcontain her make-up. As ordered, the bodyguards opened the caches andfixed its stands.

When Gretchen was shown the pair of shoes that she would wear in theshoot, the actress reportedly didn't like the shoes and volunteered touse her own. She asked her yaya to open her three Louis Vuittonsuitcases which are full of shoes. Together with stylist Patrick Rosas,the maid obliged.

Gretchen was also asked to have her nails manicured in black. Almostwillingly, she laid her hand to the manicurist. But she immediatelypulled it off, asking "taga-saan ka?" Only when the manicurist retorted"Taga-Nail & Spa po," did Gretchen offered her hands for manicure.

When La Greta got hungry, she asked her yaya to boil a soup for her.And what do you know? She brought her own microwave in the studio. Shealso asked for fruits, with each fruit stacked in an expensive plasticcontainer.

After the shoot, Dawn reportedly texted her ire to Gretchen. Theexchange of text messages got hotter with Gretchen reportedly saying"you're not rich," to which Dawn retorted "you're not married."

The two lovely actresses got involved in a spat a couple of months backwhen Gretchen felt bad that Dawn sided with Imelda Cojuangco, themother of Tony Boy—Gretchen's partner—during their controversial tiff.She blurted her anger in an interview. But they have since talked aboutit and settled the issue. Until this unfortunate pictorial incident.

In an interview with the GMA-7 showbiz talk show S-Fileslast Sunday, November 19, Dawn refused to give details about heralleged feud with Gretchen. She said, however, that they have talkedabout this and they are now okay.
ADVERTISEMENT - CONTINUE READING BELOW