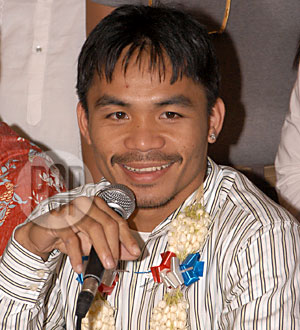 IMAGE 0
---
It was a homecoming like no other. For boxing aficionados, he was justanother boxing champion. But for a nation hungry for heroes, Manny"Pacman" Pacquiao showed there was still hope for redemption.
Here he came, at the dawn of a new day on November 24, emerging from aPhilippine Airlines flight from Los Angeles. The nation, ecstatic overhis win over Mexican boxing icon Erik Morales in their Grand Finalebout at the Thomas and Mack Center in Las Vegas, Nevada on November 19,welcomed him back with a frenzy only comparable to a rare papal visit.
Indeed, like a papal visit, the first stop since his historic returnwas a church—the Minor Basilica of the Black Nazarene in Quiapo,Manila. Here he attended a thanksgiving mass past seven o'clock in themorning over his victory over Morales—which incidentally was beingshown just outside the church, at the giant exhibition screen of thedrug retail firm Mercury Drug in Plaza Miranda.
ADVERTISEMENT - CONTINUE READING BELOW
After a brief rest at the Manila Hotel, where he ate breakfast and metsome members of the press for interviews, Pacman arrived past nine o'clock in the morning at Manila city hall for the formal pressconference. When he arrived at the hall, Manny welcomed the presssaying: " Magandang umaga po sa inyong lahat. Narito po ako,nagpapasalamat sa walang sawang pagsuporta, sa press, sa media."
He continued saying: "Dahil sa suporta at dasal niyo, lagi akongnagtatagumpay." True enough, 2006 has been very monumental for Pacman,who won three fights in just one year—two against Morales and oneagainst Oscar Larios.
Despite the festive mood, however, Pacquiao was not spared from theissues surrounding him. First is the issue involving contracts hesupposedly signed for two separate boxing promoters–Golden BoyPromotions of boxer Oscar dela Joya and Top Rank, owned by Bob Arum.Pacquiao had allegedly signed separate multi-year contracts for bothpromoters—a potentially explosive situation that could have Manny slugit out in the courts.
ADVERTISEMENT - CONTINUE READING BELOW
He answered saying: "Hayaan mo sila, wala akong pakialam," andeverybody is laughing. He continues: " Basta tayo masaya mga Pilipino."
When asked whether he will push through his showbiz career, Manny said:"Depende kung ano patutunguhan basta priority sa akin yung boxing dahildiyan tayo nakapagbigay ng pangalan."
Philippine Entertainment Portal (PEP) asked Manny about a growingclamor for him to run for public office. Unverified reports fromnewspapers say that he is being eyed as a running mate for Ali Atienza,a mayoral candidate for Manila.
"Nagkataon lang siguro na ang mga katulong ko at sumusuporta sa akin aynasa pulitika. Nasi ko lang ay makatulong din sa gobyerno natin.
"Wala sa isip ko [ang pulitika]. Ang nasa isip ko e celebrate [buong] sambayanang Pilipinas."
Another member of the press provided the follow up question asking whatdoes it take to be endorsed by Manny Pacquiao in the upcomingelections? Manny replied: " Yung makakabuti sa mga mamamayan. Walanghinahanap kundi pag-unlad ng bayan. Yun ang dapat nating suportahan."He never dropped any names.
ADVERTISEMENT - CONTINUE READING BELOW
Manny's homecoming is topped by Manila's gift for its adopted son—astatue that would soon rise in Baywalk. Gratified, Manny humbly said:"Special na regalo sa akin na hindi ko malilimutan habang buhay kahitmawala na ako. Maraming maraming salamat."
The press never also missed the chance to throw questions to incumbentManila Mayor Lito Atienza. He was asked on how he became close to theprized boxer. "Nakita na si Manny ay mabuting tao, mabuting bata,mabuting kaibigan, mabuting boksingero. Itinuturing ko si Manny naisang anak. Lalo akong natutuwa [dahil] hindi nakakalimot."
Finally Manny Pacquiao is home looking forward to a much-deservedrespite from boxing and enjoy a few months of quality time with hisgrowing family. This will be the first time Manny will see his onlydaughter, Mary Divine Grace, who was born during his rigid training forhis fight against Morales.
Manny's next opponent is yet to be known. Depending on the outcome ofthe potential legal skirmishes between his handlers, Manny could meeteither the reigning World Boxing Council super featherweight championMarco Antonio Barrera or the unbeaten World Boxing Association superfeatherweight champion Edwin Valero. When asked whom he prefers tofight with, Manny candidly said: "Pwede bang sabay (everybodychuckles). Round one is Valero, round two is Barrera." He continues:"Si Valero, nagsisimula pa lang yun." Valero has knocked out his first18 opponents. However, a Pacman in high spirits can never beintimidated. He jokes: "Lahat ng nakalaban niya, puro drayber ngtricycle," as everybody laughs again. He continues: " Si Barrera, subokna at nakita natin ang katatagan niya."
ADVERTISEMENT - CONTINUE READING BELOW
After the press conference, Pacquiao visited his ardent supporter,President Gloria Macapagal-Arroyo in Malacañang Palace for a courtesycall.
After the Palace visit, Manny passed through the streets of Manila in amotorcade, wherein a crowd of 200,000 cheered and dropped confetti ontheir hero. Students skipped classes, employees sneaked out from theiroffices, housewives left their homes for a while to catch a shortglimpse of their champion.
The whole country stopped for it's modern day icon, setting aside all differences even for just a day.