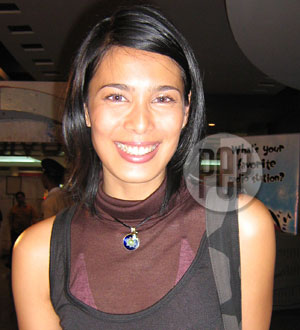 IMAGE 0
---
Actress-fashion model Angel Aquino shared her thoughts on an ongoingsquabble between two actresses—Dawn Zulueta and Gretchen Barretto—overpress reports that tagged the latter as a "prima donna."

Angel appeared in the television commercial for a shampoo brand, inwhich Dawn and Gretchen, together with Ruffa Gutierrez, were also partof. According to press reports, Dawn had been peeved by Gretchen forshowing off her expensive clothes and bringing "a coterie of alalays,three yayas, and five bodyguards" during the commercial shoot.

In an interview with Philippine Entertainment Portal (PEP) right after the screening of her movie Donsol on November 28 at SM Megamall, Angel Aquino said everyone should let Gretchen be.

"Gretchen has gotten to a certain status [wherein] she can afford whoshe wants to be. [I say] let's just let her be," asked Angel, whostarred opposite Sid Lucero in Donsol.

When asked if she agreed with those saying that Gretchen played the"prima donna" in their shoot, Angel responded: "She wants to be thatway, she wants to act that way…if people find that offensive, abrasive,or prima donna then that's their own opinion."

Angel believed that she would have acted that way as well if she hadthe same resources as Gretchen. "[Para] sa akin, if she can afford thatkind of a lifestyle, go ahead. I would if only I had the money and themeans. Ganun din siguro ako," she claimed.
ADVERTISEMENT - CONTINUE READING BELOW