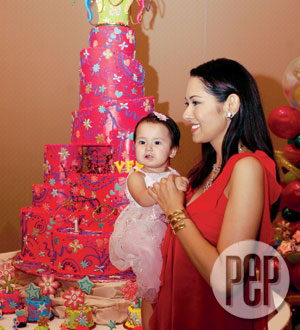 IMAGE 0
---
With Magical Fairies as theme, the party occupied two ballrooms of the Ortigas Center's posh Crowne Plaza and brought together a veritable who's who of showbiz and politics. There were 58 godparents, the guest list went up to 500 names—and the total bill came up to a million pesos!


Kiddie Pageantry

The party came with these perks:

* A duo singing live at the entry in place of the usual background music

* A giant inflatable slide

* A thousand balloons in all imaginable shapes, colors, sizes, and forms

* Games and prizes galore-300 assorted toys

* Kiosks offering face-painting and glimmer-tattooing

* Personalized giveaways: cellphone holders and key chains for adults, mini ottoman chairs for kids

* Kiddie food booths: Jimini Pizza, Kiddie Burgers, Big Chill, Potato Corner, Crispy Crepe, Buy Bucket Nachos, Fruit Snow Sherbet, Waffle Time hotdogs, and Corn-on-the-Cob.


Wishing Well

The 58 godparents all gave messages, wishes, and promises for Venice as they dedicated her to God. The best promise, we think, came from Ninang Regine Velasquez. It came in the form of a song popularized by Barbra Streisand, "Not While I'm Around," from Stephen Sondheim's broadway musical Sweeney Todd. The opening lines of the song:

Nothing's gonna harm you,
Not while I'm around.
Nothing's gonna harm you,
No, sir, not while I'm around.
Demons are prowling everywherenowadays.
I'll send them howling, I don't care, I've got ways.


Future Stars

When celebrities decide to mount a celebrity baby's party, expect celebrity children—lots of them—to attend. On occasions such as Venice's treat, we get a glimpse into the future of showbiz. Most kids who are born with showbiz gemes are good-looking little creatures. They also show early signs of being star material.


Ruffa's elder daughter Lorîn, for instance, can already wave like a beauty queen. Sharon Cuneta's daughter, Frankie Pangilinan—whose textmate, yes, textmate and best friend is Atasha Muhlach, daughter of Aga and Charlene—is so ma-PR like her mother. Aga's mini-me, Andres, has a killer smile. This is just to name a few.


ADVERTISEMENT - CONTINUE READING BELOW
A number of celebrity parents are hoping that their children 's minds won't be filled early with showbiz dreams. Ruffa herself wants her daughters to finish school "because that's one thing I was not able to do."


Godparents Galore

Ruffa, via e-mail and through YES!, wishes to express her gratitude to all those who came to Venice's party.

She wrote: "To everyone who made our trip a most memorable one, thank you so much! Venice is truly blessed to have a wonderful set of godparents and many friends who will be with her during her growing years. Thank you for all the love, prayers, presents, jewelry, and for making her dedication and 1st birthday a magical event!"

Here's the list of Venice's 29 pairs of ninongs and ninangs:
Sen. Bong Revilla Jr. & Mayor Marides Fernando, Sen. Jinggoy Estrada & Ms. Precy Ejercito, Dir. Reynaldo Wycoco & Mrs. Imelda Marcos, Sec. Mike Defensor & Ms. Amparito Lhuillier, Gov. Casimiro Ynares Jr. & Ms. Anastacia Co, Mayor JV Ejercito & Atty. Annette Gozon-Abrogar, Mayor Jerry Pelayo & Ms. Aurora Mendoza, Vice Mayor Michael Ramah & Ms. Anniellie Mardigan, Mr. Ariel Muhlach & Ms. Ara Mina, Mr. Ben Chan & Ms. Carla del Prado, Mr. Bobby Feleo & Ms. Chit Feleo, Atty. Bonifacio Alentajan & Ms. Clavel Bendaña, Mr. Boy Abunda & Ms. Elsie Han, Mr. Butch Francisco & Ms.Gelli de Belen-Rivera, Mr. Celso de los Angeles & Ms. Jean Saburit, Mr. Douglas Quijano & Ms. Marlene Robertson, Dr. Ed Regalado & Ms. Naty Pappas, Atty. Felife Gozon & Ms. Norma Lim, Atty. Felipe Antonio Remulla & Dr. Normita Vicencio, Mr. Joey Marquez & Ms. Rachel Singson, Mr. Janno Gibbs & Dr. Pie Calayan, Dr. Manuel Calayan & Ms. Regine Velasquez, Mr. Mario Laurel & Ms. Rufa Mae Quinto, Mr. Michel Lhuillier & Ms. Rose Flaminiano, Mr. Phillip Salvador & Ms. Roselle Monteverde-Teo, Mr. Ramon Christopher Gutierrez & Ms. Sharmaine Arnaiz-Ochoa, Mr. Richard Gutierrez & Ms. Sheryl Cruz, Mr. Rudy Fernandez & Ms. Shirley Kuan, Mr. Tim Yap & Ms. Vina Morales.

ADVERTISEMENT - CONTINUE READING BELOW

Blessed Family

Back in Istanbul, Ruffa emailed this reply to our query about Yilmaz's reaction to the grand party: "Yilmaz thought that the party I had for Venice in Manila was awesome! We already had a party for her in Istanbul with family and some foreign friends before we left for Manila so he thought it was a good idea for me to celebrate naman with my loved ones from back home. While the guest list for Manila reached 500, the celebration in Istanbul was much smaller, with only 60 of us present."


Ruffa also gave us her wish list for Venice: "My wish for my little angel is for her to grow up to be a God-fearing individual with strong moral values so she can represent herself well no matter who she talks to. I dream for her to be happy, healthy, and excel in her chosen profession. Happy 1st birthday, Venice!"
(Ed's Note: This was released in the December 2005 issue of YES! magazine. Last September 11, Venice turned 2.)