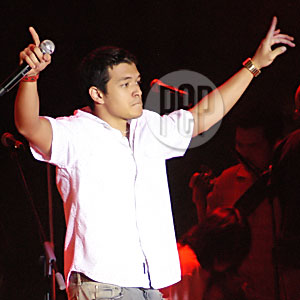 IMAGE 0
---
Jericho says he is only following his heart. The actor-singer is surprisingly open-minded about criticisms regarding his career shift.
He believes that it will take some time before people finally accept his decision to enter the music scene. "It's just normal that people don't see me sing. They see me act. It's a good decision for me to change careers. Some would say, 'O My God, what did you do?' Yung heart ko, yun ang gusto niya e."
Echo (as Jericho is often called) says that the criticisms he receives help him a lot. He speaks about music with a passion. "For me at this very moment, it's the real thing that I embrace right now. I think I belong to music. There's so much truth with what I do."
He recalls the band's difficult moments when they were still starting out. Their first problem was "finding what music we really want to play. I love jazz, I love funk. We had several sessions mahanap lang yung gusto namin. We ended up funk-jazz na merong touch of rock."
ADVERTISEMENT - CONTINUE READING BELOW
"We're just like any other band. The difference maybe is that we take it seriously. We give reason to what we do. That's the goal of the band always."
Asked how far they're willing to go, Echo, a Born Again Christian, replies: "As far as God wants us to go."
Echo and his fellow band members took part in the recently concluded MTV Music Summit for AIDS at the Fort Bonifacio Open Field in Taguig last December 5. Jeans performed their single "Panday" for the last concert of MTV this year. (Panday was also the title of the last TV series Jericho topbilled in ABS-CBN. AIDS stands for Acquired Immune Deficiency Syndrome, a deadly disease that has no known cure.)
Honored to be part of the event, the frontman of Jeans says, "It's not just selling the music." More importantly, he says, it's about "being heard" and about raising awareness about AIDS. "I'm so glad that we're here. Makakapag-perform kami with a purpose. It [AIDS] needs awareness. It's a good thing that we can support this event."
ADVERTISEMENT - CONTINUE READING BELOW
Performing for this event is one of the biggest gigs they had so far.
The actor admits getting goose bumps prior to a performance. He smiles and says, "To tell you honestly, I have them. It's not just me. We're a new band. We've been trying hard. Andami na naming nagawang gigs. Tumibay na yung dibdib ko e."
He ends by acknowledging his inspiration, his girlfriend Heart Evangelista. "With someone like Heart supporting me, she's such a blessing to me. Every time I go, I call her up. If it's good, I tell her; if it's not good, I tell her."