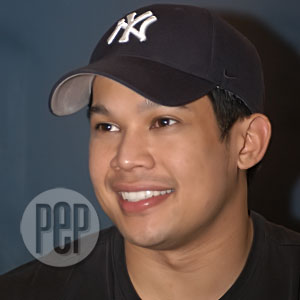 IMAGE 0
---
Showbiz personalities have criticized DJ Mo Twister for the format of the Good Times segment "Forbidden Questions," where DJ Mo asks his celebrity guests provocative questions about themselves and the industry. Most of these critics are blaming DJ Mo for his guests' answers.
PEP (Philippine Entertainment Portal) gives DJ Mo—Mohan Gumatay in real life—a chance to clear the air.
"Forbidden Questions." PEP asks DJ Mo how he came up with the now controversial "Forbidden Questions."
"Actually, we had a guest here from the States named Big Boy," he starts. "He's a DJ in L.A., and he plays a game that's a bit like 'Forbidden Questions.' He'll ask forbidden questions from a hat that are very hard. It's not a game. It's more like it's part of the interview process. We played it with him here.
"I thought this would be great if we did this to local celebrities. But we made it to a game format. I think sa kanya [DJ Big Boy] 15 lang. We have 40--the forbidden 40--it progressively gets harder, and the celebrities have to go against each other for a score."
ADVERTISEMENT - CONTINUE READING BELOW
The antagonists. Since the segment started getting attention, DJ Mo has been receiving flak from some members of the showbiz press and from artists whose names have been dropped as answers by the guests.
"I think the people who really accuse us of doing the wrong things or saying this and that are the ones who do not listen to the show," says the DJ seriously. "So, sana yang mga tao na may opinion na masama tungkol sa program, I think they should listen to it first. As soon as they finish listening to it, then if they still feel negatively about the show...then I would actually respect that a lot more. But from the opinions I received, what appears to be people na may masamang concept of our program are the ones who have never woken up at 6 a.m. to listen to the show."
He adds: "I don't want to say they don't have the right to say anything, everyone's entitled to their own opinion, but I don't think as a media person—which some of them are—I don't think you should critique something which you yourself haven't experienced."
ADVERTISEMENT - CONTINUE READING BELOW
The lead. "The thing is I'm two people," he explains. "The person you hear on the radio and then there's Mo you see in person. In person, I'm much more reserved. I don't actually talk much in person. I'm rather quiet. On the radio, I'm trying to be a comedian. If you go to a comedy club, especially here sa Philippines, di ba 'yong mga comedians inaasar nila 'yong mga tao sa audience or 'yong ibang mga tao sa industry? Because it's part comedy. I'm trying to make people laugh. I'm just trying to make your drive from your house to your work, or your drive from your house to your school, a little bit more enjoyable."
He asserts: "This is not serious. I don't take it seriously. This is not a showbiz chismis show. You know, we don't really revolve around it. I'm just trying to make people laugh. I think to a point we succeed and to a point we don't succeed because we have these intrigues and controversies. But I think kahit papaano 'yong mga tao nakikinig sa 'min, hindi naman sila nagagalit. Wala naman silang masamang reactions."
ADVERTISEMENT - CONTINUE READING BELOW
The conflict: receiving the blame. "I'm very very confident that the people who blame me for any arguments or any bad answers are the people that don't listen to the show," he repeats. "They don't listen to the program, so, of course, they are gonna blame me. I think any person with a handful of brain, and who's listened to the show, would realize that first and foremost we're just messing around. Sure, it's a little serious, but it's again in the spirit of fun—intended to make people laugh. To have a good show."
He adds, "The second thing is I didn't answer the questions. They have a choice to tap out, but they don't. It's a live program. I don't brief them [the guests] on the questions, so I'm shocked as well with the answers. Ako, I'm a fan at the same time I'm part of it."
Denouement. If he isn't the one to be blamed, why is DJ Mo saying sorry to all the people his guests have offended?
ADVERTISEMENT - CONTINUE READING BELOW
"I say sorry 'cause I don't wanna hurt anyone's feelings," he answers. "If anyone's feelings are hurt, and you feel I'm part of it, well then I'll apologize. That's normal. I don't care if my point is not put across by saying sorry."
He explains, "If somebody goes 'Mo, my feelings are hurt 'cause of something that was said in your program,' I'll apologize because it's my program. But you know, you should talk to me first. We should discuss what happened so that you'll get a clearer mind. And if you still think even after that na you're still hurt, well then I'll apologize."
He exclaims: "'Cause I wanna be a gentleman!"

Ending? With all the negative publicity the show is getting, until when can DJ Mo keep doing the segment?
ADVERTISEMENT - CONTINUE READING BELOW
"It all depends on if I'm able to book guests on the show," he says seriously. "I know that other people are trying to ban their artists from our show. Well, they can do that. And if I don't get any more artists, then they win. Ano bang magagawa ko? But as much as possible I'm still trying to book people on the show. The moment that stops, then maybe we'll no longer have to do 'Forbidden Questions.' But in the meantime, okay pa naman."