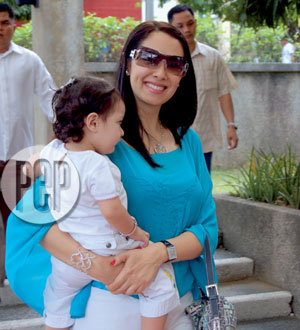 IMAGE 0
---
Jet-setter Ruffa Gutierrez visits her family in the Philippines at least once or twice a year. Her first visit this this year was March and she brought along her two lovely ladies—Lorîn and Venice.
She also came with the great news that she and Selen Gorguzel have already made peace in Istanbul.


Selen, you may recall, is the woman with whom Ruffa's husband, Yilmaz Bektas, has a daughter named Ilknaz. Ruffa and Selen were not on good terms for more than two years, but Ruffa treats Ilknaz like her own.


When Ilknaz turned eight years old, Ruffa threw a party for her at the Bektases' Acarkent home in Istanbul. Selen attended the celebration and there made peace with Ruffa. In her email, Ruffa recalled how the peace process went.
"When Selen unexpectedly showed up that day I wasn't surprised because she had already sent word through my staff that she wanted to make peace with me. Being the lady that I am (lady daw o!!) I welcome her into my home and we went our separate ways. I went off to the kitchen while she kissed my in-laws hello. Before I knew it she cornered me and thanked me for organizing Nazo's (Ilknaz's nickname) birthday, hugged me and CRIED! Nagtinginan lang kami with tears in our eyes ... no words were spoken. For me it was like a needle being pulled from my heart. I knew at that instant that I had finally let go of what happened in the past and for some strange reason, I know she had as well."

Ruffa emailed the photos taken at the memorable birthday bash that she organized for Ilknaz.