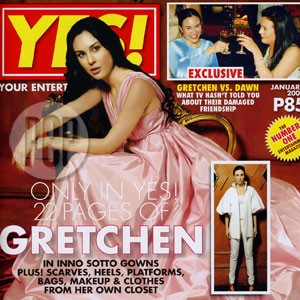 IMAGE 0
---

"The Prime of La Greta" is the apt title of the 22-page fashion special of YES! magazine's January 2007 issue featuring one of the most beautiful and most controversial figures in Philippine show business—Gretchen Barretto.
The YES! cover shows Gretchen looking every inch a goddess in a pink Inno Sotto gown, while the inside pages show more of Gretchen in more Inno Sotto creations. Together, the model and the gowns form a stunning sight in photographs by Darren Tieste.
The exclusive feature highlights Gretchen's personal wardrobe: shoes, bags, accessories, clothes, and makeup. YES!, responding to requests from readers, had been chasing after Gretchen for months to appear in its pages garbed in fashion that she herself would choose. Essentially, that meant picking from her closet.
Gretchen had hesitated at first. She did not want people thinking she was flaunting her possessions.
"If you notice," Gretchen said to YES! editor-in-chief Jo-Ann Maglipon, "in a lot of interviews when I'm asked, 'What is the brand you're wearing?'—I don't answer. Mainly because it would be perceived as—'Ah, Gretchen's bragging.'...How many times do they ask for a shoot in my house? Do I have it photographed? No. Simply because I know it will be said, I'm boasting again."
When finally she was persuaded to bring some of the contents of her phenomenal closet to the YES! pictorial, she did so largely because the shoot concept would have her wearing the gowns of Inno Sotto, her favorite designer.
Add to that, Gretchen was physically ready for a fashion pictorial. In her words: "I'm at my best because I really work hard at it. I diet, I exercise, I shape my body for the clothes, and I know people expect me to always look beautiful and to always be stylish and to always surprise people with a new look. So, I really work hard at it."
ADVERTISEMENT - CONTINUE READING BELOW
In the YES! article written by the entertainment magazine's associate editor Anna Pingol, Gretchen talks about her personal fashion style, how she keeps on top of the beauty scene, and her general attitude about her celebrity status.
The article comes with gorgeous photographs of La Greta surrounded by the very things that people love—and hate—about her: the expensive, imported and branded clothes and accessories that only a select few can buy, own, or wear to great advantage. These designer brands include Pedro Garcia, Rene Caovilla, Robert Clergerie, Fendi, Stuart Weitzman, Valentino, Balenciaga, and Christian Louboutin.
In the YES! feature, there are also photos of all the things she brought to the pictorial—the boxes and boxes of makeup costing beyond half a million pesos (Chantecaille, SK-II); the luggage (Louis Vuitton, Isle Manilhe, Prada) filled with clothes, shoes, and accessories; and even the now-famous microwave oven (American Home).
Just weeks back, the microwave oven, which is photographed outside its original box and inside it, was the subject of blind items insinuating that its owner was playing the "prima donna" and "showing off" to make those around her feel they had less.
Gretchen knows she was alluded to and has answered, "I feel silly that I have to say I bring a microwave because I have special food, because I'm on a special diet to keep my weight, because I said I know that my public expects me to always look good. And I believe I deliver."
Of course, it's not a secret that Gretchen's partner is billionaire Tonyboy Cojuangco with whom she has a daughter, Dominique. The actress does not deny that the luxuries she enjoys today are gifts from Tonyboy. After all, she has been away from filmmaking, her bread and butter, for more than a decade. (Her comeback film is the Jose Javier Reyes film Matakot Ka Sa Karma, which is an entry in the ongoing Metro Manila Film Festival.)
ADVERTISEMENT - CONTINUE READING BELOW
Gretchen, ever frank, also does not deny that, on her own, she cannot afford even Inno Sotto's gowns, let alone all the branded shoes and bags she now owns. "Pag sinabi ko sa inyo na 'I bought that with my talent fee from ganito, ganyan'—sasampalin n'yo ako... I'm not naman saying binili ko 'yan with my own money."
GRETCHEN VS. DAWN. The Gretchen photos seen in YES! (January 2007 issue) were taken at the height of the controversy involving Gretchen and fellow actress Dawn Zulueta, whom Gretchen worked with in a pictorial for Preview magazine and in a shoot for a shampoo commercial.
In the same YES! issue, Gretchen talks at length about how her feud with Dawn grew to the sorry state it is in today. Written as a separate eight-page article by the magazine's editor-in-chief, the article is the most detailed account of a celebrity feud that has filled the entertainment section of newspapers and television since early November.
In one of her statements, Gretchen says: "I just really wanted to know why this prima donna thing came out in a tabloid. Of course, we [her manager and friends] suspected Dawn because 'yong stories, parang they were hitting me lang. When we asked her, inamin naman niya."
She also said: "I am not gonna apologize for the life I live, and I am not about to allow anybody to make me feel guilty for my lifestyle, because it is definitely not a crime."
Dawn's brief statement on the matter is also published in the magazine whose January print run is 133,000 copies.
To read the full article, get a copy of the January 2007 issue of YES!—available in all leading bookstores and magazine stands nationwide since December 20.