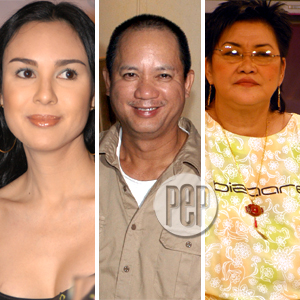 IMAGE 0
---

PEP (Philippine Entertainment Portal) has it on reliable authority that Lolit Solis now believes that billionaire businessman Tonyboy Cojuangco truly loves his partner Gretchen Barretto.
Yesterday, the feisty talent manager and TV host arrived at the Ninoy Aquino International Airport from Los Angeles, California, where she had gone for a few days. When her phone rang, says the PEP source, Lolit was a little taken aback that the voice on the other end was that of Tonyboy's. The voice was very polite, courteous, and kept addressing Lolit as "Ma'm." So surprised was Lolit, says the same source, that she kept addressing him in turn as "Sir."
THE BACK STORY. For days on end, showbiz talk shows have carried the Gretchen Barretto-Lani Mercado word war. But although this is the first time the two have been caught by the media in open disagreement, their feud has been going on since 1992.
That year, on the movie set of Ako ang Katarungan, Gretchen had an affair with actor and now senator Bong Revilla. This, Gretchen herself revealed in a December 29 interview with PEP. At the time, Bong was married to Lani and already had three children with her. The Gretchen-Bong relationship, according to Gretchen, ended after four months, when Bong made the decision to return to Lani.
ADVERTISEMENT - CONTINUE READING BELOW
Gretchen and Bong have since become friends. Lani went on to have three more kids with Bong, and today they even one grandchild. Gretchen has also since asked for Lani's forgiveness, which Lani gave.
Recently, Gretchen and Lani got into the news because of a word war that Gretchen says was provoked by Lani but which Lani says was never meant that way.
Asked by media for her Christmas wish for Gretchen, "I know in her heart what she wants is a marriage... I want her to have a marriage with Tonyboy."

Gretchen got very rattled by this. In a recent interview, she said, "A wedding and marriage are two different things. What I have with Tony is a marriage. A marriage is a commitment between two people... What Lani has with Bong is a wedding... Bong's infidelity is not something beautiful. Lani said she has six beautiful children with Bong. She shouldn't forget that Bong has seven beautiful children."
ADVERTISEMENT - CONTINUE READING BELOW
After this explosive tirade, Lolit Solis, manager to Bong and Lani, had a mouthful to say about Gretchen. In a phone patch interview with S-Files on January 21, Lolit countered: "Hindi ko alam kung ano 'yong hindi niya malimutan kay Bong. 'Yong iba namang naging girlfriend ni Bong, hindi naman nagsasalita. Sina Rufa Mae...si Dina Bonnevie... Bakit si Gretchen nagsasalita?"
With the entry of Lolit, the word war reached a new level. Everyone in showbiz knows that Lolit is a formidable enemy. Not just because she has the means (senior member of the showbiz industry, member of the Professional Artist Managers Inc.), the fora (host of Startalk, columnist of several tabloids, radio host at DZRH), and the skills to hit back (very sharp, speaks with color and verve, elephantine memory). She is formidable because she actually commands respect within the industry.

INTERVENTION. Yesterday, Tonyboy reportedly called Lolit a few hours after the Startalk co-host arrived from the United Sates. A source related to PEP how the conversation went between Tonyboy and Lolit.
ADVERTISEMENT - CONTINUE READING BELOW
After greeting Lolit and addressing her throughout as "Ma'm," Tonyboy reportedly asked the talent manager to please stop her tirade against Gretchen. In turn, Lolit told Tonyboy, addressing him throughout as "Sir," that she was only defending Lani against Gretchen.
Lolit reportedly told Tonyboy that if Gretchen stops hitting Lani, then she will stop hitting Gretchen. Tonyboy reportedly responded by saying, "Yes, inaayos naman talaga."
At that point, Tonyboy gave the phone to Gretchen. Gretchen then greeted Lolit with enthusiasm and said with all the charm she could muster, "'Nay Lolit, alam mo naman na sa lahat ng tao sa showbiz, ikaw lang ang ayaw kong makaaway."
The rest of their conversation was not divulged by our source, but from Lolit's comment after the phone call, things must have gone well.
Lolit is supposed to have said, "Dito ko napatunayan na mahal ni Tony si Gretchen kasi nilunok niya ang pride niya para kausapin ako."
ADVERTISEMENT - CONTINUE READING BELOW
We expect a ceasefire after this.