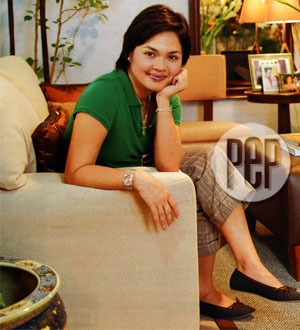 IMAGE 0
---
The September 2005 issue of YES! magazine featured a celebrity home makeover. It was an idea which came up one night—actually, in the wee small hours of the morning—while the editorial staff was in the midst of press work. Why not a celebrity-home pictorial with a twist? Why not a celebrity-home makeover?
But whose home?
For a first-time project, the subject had to be a huge star. The name of Judy Ann Santos immediately came to mind.
It just had to be Juday. After all, she was the first YES! cover girl (April 2000), and her home was our first celebrity-home feature—a concept that set a trend in local entertainment magazines.
Actually, Juday's seven- year-old house was perfectly okay. It was clean, comfortable well-maintained. And it was a happy home. But we wanted something different from what we had put on a past cover.
The problem was how to get Juday to agree to the makeover. When the idea hit us, she was in San Francisco, California, for the ABS-CBN Caravan show, So we brought the concept to her mother, Mommy Carol, who then sent an overseas text message to her daughter.
Not long afterwards, we got an overseas call from Juday herself. "Wala po akong gagastahin?" she wanted to know. "Wala po kayong kukunin?"
"This is our gift," we said. We asked her about her concept, her theme, her style.
"Sige po" she replied, "pagbalik ko, mag-miting tayo sa concept."
Oh, no! We had a deadline to beat!
"Hmmm..." we heard her think aloud at the other end of the line. Then: "Sige po, hindi lang ako makapag-isip pa ngayon ng concept na gusto ko. Ite-text ko po kay Mommy 'pag may naisip na ako."
Two days later, we were shooting the house for the before-makeover look. There her mom read a text message from Juday: "Mommy, pakisabi na lang [sa YES!] , basta 'yong simple lang."
ADVERTISEMENT - CONTINUE READING BELOW
With no actual concept to play around with, our stylist—Real Living magazine's style editor Gwyn Guanzon—decided to do another ocular inspection of the place. He told Mommy Carol he might do a repainting job.
"Nako, tanungin muna natin si Juday pagdating," Mommy Carol said.
The day of Juday's arrival from the U.S. was also the day we needed to get the paint job done. We arrived at Juday's place with three painters in tow, not knowing if Juday would agree to the repainting.
Tired and sleepless, sorting out the contents of her balikbayan boxes, Juday simply asked: "Anong kulay? E, di, mangangamoy dito?"
We assured her we would be using quick-drying, no-scent blue paint. The word blue must have done the trick. It's Juday's favorite color.
"Okay," she said simply.
She then proceeded to the kitchen, whipped up a pasta dish for us, bade us goodbye, went up to her blue room to sleep, and let us do our work.
And here it is—the results of makeover magic!