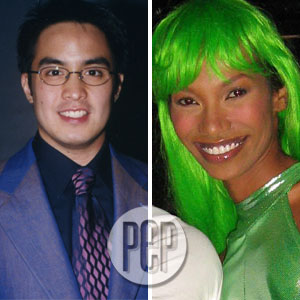 IMAGE 0
---

Model-turned-actress Wilma Doesnt revealed that she had a one-night stand with actor Onemig Bondoc on Good Times this morning, January 31. Wilma is the latest celebrity guest of the "Forbidden Questions" segment of the controversial radio program of DJ Mo Twister.
Wilma was asked by DJ Mo if she has ever slept with someone famous. Wilma answered, "It's Onemig Bondoc! Di ba, ang ganda ko? Mestizang-mestiza ako! Secret naming dalawa 'yon e." (Obviously, after this revelation, it's no longer a secret.)
"Way back, I think 2001. Di ba, napagkamalan siyang tatay ng anak ko? Sabi nga nila, 'pag may apoy, may usok. Ganda, 'di ba?" she continued, referring to a rumor that Onemig is the father of Wilma's child.
When asked to rate Onemig's performance from 1 to 10, Wilma gave the actor an 8.
Another "secret" that Wilma revealed was the name of the father of her four-year-old daughter—who until now has been a great mystery: "Oscar Belarmino, Jr. from Batangas."
Wilma notched a perfect score of 40, joining the "elite circle" of Borgy Manotoc, Lolit Solis, and Luis Alandy. She sealed the "40 Forbidden Questions" by kissing a guy from the audience named Ian. Wilma was supposed to kiss the openly gay Mojo Jojo but the latter resisted.
WILMA 'DOESNT' LIKE MAUI. While in the hot seat, Wilma also openly expressed her dislike of sexy actress Maui Taylor.
The model-actress repeatedly mentioned the name of Maui on the show. Maui was Wilma's answer to the following questions: "feeling diva na celebrity," "the industry's most plastic person," and "celeb you don't like working with."
Wilma also made up an e-mail address for Maui: batangmayboobs@yahoo.com. (Aside from Maui, Wilma also invented an e-mail ad for actor-singer Sam Milby: iendorseverythingexceptfemininenapkin@yahoo.com.)
Getting curious, DJ Mo and co-hosts Andi and Mojo Jojo asked Wilma why she was so "anti-Maui."
ADVERTISEMENT - CONTINUE READING BELOW
Wilma said, "We did a stage play together [Private Parts]. Parang I made a simple comment... They did a recording, first time ko narinig ang recording and I said di pala maganda boses niya... Sabi ko siguro minadali yung recording. She got mad at me. Lahat ng cast, nagalit over me, gano'n."
Then she added, "It must be the surgery."
INTIMATE QUESTIONS. Mo Twister also asked Wilma some intimate questions and the model-actress was game. Wilma even disclosed that she had her nose done, saying "Nagpabawas ako ng nose."
Here are other personal questions Wilma answered:
Age when you lost your virginity: "23. I'm serious. I'm a late-bloomer. I'm probinsyana e. I'm turning 32."
Worst thing you did when drunk: "I'm a party animal. Nakikipag-kiss ako kahit kanino—sa boys lang."
Craziest place you've done it: "In the public rest room, a bar. Female CR. Ni-lock ko yung door."
Have you ever cheated on a boyfriend? "Yes. Kaya nga bumalik sa akin, di ba, yung karma?"
Have you ever tried illegal drugs? "Yes. Everything, but not shabu. But I stopped na. It depends on the mood. 'Pag sinabi ko naman na I've never tried drugs, magtataasan naman kilay... Not only in modeling industry, in showbiz as well."
SHOWBIZ. The game became even more exciting when Wilma namedropped some of the most famous celebrities in local showbusiness.
Worst dressed celebrity: "Aya Medel. Lagi ko siyang nakikita sa magazines sa worst dress corner e." When Mo told her to give him a more famous name since he doesn't know Aya, Wilma said, "Angelika dela Cruz. Minsan kasi hindi terno yung shoes sa suot. Sorry, girl."
Most vain celebrity: "I think it's Piolo Pascual. Palagi siyang ang bango-bango. He's a friend of mine. And also Ariel Rivera."
Girl crush: "Rhian Ramos." (Rhian is a newcomer who is Richard Gutierrez's leading lady in Captain Barbell.)
ADVERTISEMENT - CONTINUE READING BELOW
Better station, ABS-CBN or GMA-7? "GMA-7. They gave me a break, e. I used to be with ABS but mas less yung stress sa GMA compared to ABS. Everybody's friendlier. Pagdating mo do'n, may sasalubong sa 'yo. You'd feel more of an artista. I have nothing against ABS, pero parang kailangan mo pang hanapin ang tao. 'Saan kaya dressing room or saan ako pupunta?'"
Bad encounter with a local celeb: "Diether Ocampo. I felt so insulted in a way when I was doing hosting. Sobrang pabiro ako. I was energetic, I didn't mean anything. Then someone goes like, 'I don't eat dinuguan e.' Parang he was like saying he doesn't like black girls."
Good-looking on TV but not that much in person: "Dennis Trillo. Super-ganda ng registry niya sa TV, pero 'pag nakita mo sa personal, parang may kulang kasi hinahanap mo yung nakikita mo sa TV."
Three guys you flirted with and turned you down: "Keempee de Leon—crush ko talaga 'yon, alam niya 'yon. Wendell Ramos—hot. Antonio Aquitania."
Celebrity who has yet to admit going through plastic surgery: Wilma can't mention anyone at first but when a caller mentioned the name of Angelika dela Cruz, she asked, "Angelika dela Cruz? Talaga? Sa boobs? Ah, sa chin or cheek bone, tama ba ako? Oo, I think so. Sige, Angelika dela Cruz."
Celeb couple who will not last: "I think si Rufa Mae [Quinto] and Erik Santos... Lagot ako kay Rufa Mae!"
Closet gay: "Sam, hindi. Piolo, hindi. Si Uma [Khouny]. Malantik pa yung kamay niya sa akin. Nakataas lagi yung kilay." (In past interviews, Uma has said he is not gay.)
Worst actor and actress: "I go for Joross [Gamboa]... Napanood ko yung Maalaala Mo Kaya, pretty, kaya lang sana nabigyan niya ng mas justice yung role niya na gay. Sa girl, Sandara Park."
ADVERTISEMENT - CONTINUE READING BELOW
Worst TV Show: "Daisy Siete."
FASHION & MODELS. Being a model, Wilma knows a lot about the industry. And DJ Mo got her to squeal on some of her colleagues.
Male model with worst Zoolander look (the character popularized by Ben Stiller in a movie of the same title): "Robby Mananquil, but he's hot. Half-open eyes and the pouting lips."
Model who is an intellectual lightweight: "I forgot the name, I think Mark something... I think friend ng asawa ni Ana Dizon."
Local model with eating disorder: "Before, it's Jill Baltazar."
Worst or overrated local designer: "Yari ako dito. Si Alex Pigao. Di ko nabigyan ng justice. Made of fish scale, di ko maintindihan."
Since models dress up together—boys and girls—backstage, they often see the private parts of each other. DJ Mo asked Wilma who's the "luckiest" and "unluckiest" of the models she has "seen."
"Luckiest": "Luke Jickain. Ang kinis-kinis."
The "unlucky" one: "Jett Rye, the Bumbay-looking. There is [something down there], but not my type."