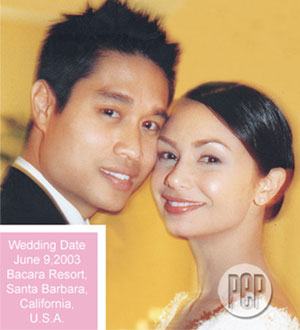 IMAGE 0
---
When he was 11 and she was 13, he would often visit her house at Clark Air Base, in Pampanga, to play with her younger brother. Years later, Eric Ladines Villarama confessed to Donita Rose Ramos Cavett: "I've been in love with you since we were kids. It has grown from puppy love all the way to the kind of love that I'm scared about."
By that time, she was a well-known star named Donita Rose, and he was an ad agency art director.
For a time, they maintained a long-distance relationship, because her work kept her in Singapore and he was based in California. But their religious beliefs kept them together while they were apart.
Finally they had an outdoor wedding in California, after which they went to Disneyland and Hawaii for their honeymoon. A romantic tale, indeed.