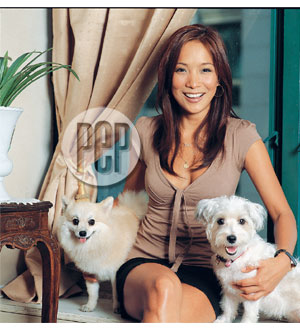 IMAGE 0
---
Misha, the Pomeranian, belongs to her mom Tess—who was devastated by the death of her pet, Wicket, also a Pomeranian. "On her birthday, my dad asked me to look for a replacement for Wicket. Kasi, after Wicket died, she didn't want another dog ever." Pia went to a Pom breeder and got another pet for her mom. "When she saw Misha, it was love at first sight."
Snoop was Pia's gift to her then—boyfriend Mike. "My friend's dog gave birth to seven puppies. He didn't want to sell them. He asked me if I wanted one. And, tamang-tama, my ex-boyfriend and I had been thinking of getting a dog. Or, at least, getting one for him. And so, on his birthday, I decided to give Snoop to him."
Pia's family agreed on the name Misha for the Pomeranian because "she looks it—like a mushy ball of fur." Snoop, on the other hand, got her name from the rapper Snoop Doggy Dogg: "We wanted it to be a little bit edgier and not so commonplace."