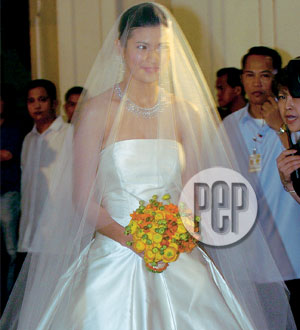 IMAGE 0
---
The wholenation knew that the relationship of actress Assunta de Rossi, a.k.a. Ma.Assunta "Sam" Schiavone, and Negros Occidental Congressman Julio"Jules" Ledesma was a whirlwind romance. What many didn't know wasthat this was Jules's second chance at happily-ever-after, since his firstwife, Marivi Pe, had tragically died of cancer a few years earlier.
TheAssunta-Jules romance became a hot topic because of the rifts between Jules andhis future mother-in-law, Nenita Schiavone—not to mention his futuresister-in-law, the outspoken Alessandra "Alex" de Rossi.
But as thewedding day drew near, all misunderstandings got cleared up, and the formeradversaries welcomed each other with open arms. Thrilled that love hadconquered all, the couple made certain that their wedding would be a night noone would ever forget. The couple tied the knot at the Sanctuario de San Antonio in Makati, last March 14, 2004.