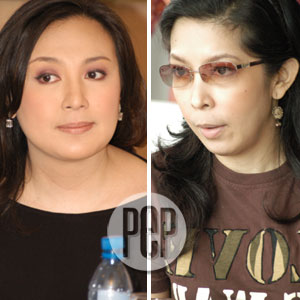 IMAGE 0
---
December 22, 2006, a female PEP(Philippine Entertainment Portal) source was at Sonia's Garden in Tagaytay whenshe and her companions spotted KC Concepcion with a foreign-looking guy. Shequickly assumed that the guy must be one of KC's Frenchman friends who had cometo visit the country.
But a closer look finally identified KC'smale friend as Lino Cayetano—son of the late Senator Rene Cayetano, brother ofSenator Pia Cayetano, director of the defunct Little Big Star and Anghelna Walang Langit, and a crossover talent from GMA-7 to ABS-CBN. Lino'slean, fragile mestizo looks can make him pass for a foreigner.
KC and Lino were said to have been seentogether in Manila and Boracay.
On January 31, 2007, Dolly AnneCarvajal—entertainment columnist and daughter of the late Inday Badiday—wrotein her Philippine Daily Inquirer column "Dollywood" that a certain "Kace Cayetano"e-mailed her about KC and Lino vacationing in Hong Kong.
"Before KC flew back to Paris, she andLino spent a few weeks in HK, according to the e-mail sender," she said in hercolumn.
A picture of KC and Lino, allegedly takenin Hong Kong, accompanied the piece.
On February 3, PEP was able to interviewSharon Cuneta about the issues surrounding her daughter, KC, and Lino.
The Megastar clarified, "Angsasabihin ko lang, di totoo yung weeks... KC was not even here for three...Kasama niya kami sa Hong Kong... Saka please lang, nakikiusap ako, huwag nanating pag-usapan yung KC-Lino issue, pati yung Hong Kong. Nakakairita sakahindi na dapat."
On February 12, Dolly Anne wrote in hercolumn Lino's official statement—sent to her through text message—answering thecontroversy and clarifying details.
Lino's message followed as: "I just wantto clear up some things regarding your article. KC and her entire family wentto Hong Kong before she flew to Paris. On their last day there, I surprised herand spent half a day with KC and her friends from HK Disneyland. Then she leftfor Paris na.
ADVERTISEMENT - CONTINUE READING BELOW
"We didn't spend a week there and wedidn't do anything behind her family's back. We are genuinely still in theprocess of getting to know each other as well as getting to know each other'sfamily and friends. I think that the most important aspect of starting arelationship is building the proper foundation..."
MEGA HURT. In a PEP interview on March 2, Sharon revealedthat she is hurt by what Dolly Anne has written about KC.
She explained, "Ang sasabihin ko,masamang-masama ang loob ko because I really expected... Because her [DollAnne's] mother [the late Inday Badiday] and I had a very, very specialrelationship and I'm very close to her first cousin Carra. I also respectedTita Letty Magsanoc [Inday's sister]. I would have hoped for a littleprotection from Dolly Anne pagdating sa miyembro ng pamilya ko, lalo't mali angisinulat at saan nanggaling ito?"
An interview quoted Dolly Anne supposedlysaying "a friend is a friend, but a scoop is a scoop."
The Megastar reacted, "Magsabi ka lamangng totoo. Hindi 'yong kung di mo gustong protektahan ang anak ko, parang ...Because I've heard na sinabi niya sa TV na she's my friend, but with thatstupid 'scoop'? So how can you call yourself my friend, di ba? In that case,return to your friend what you are supposed to. Dati, nagkakaintindihan tayo...
"I understand that people are interestedin who you're going out, pero para mag-imbento ka na parang nag-meet pa langtayo 'tapos ang tsismis, nagtanan na tayo, parang pangit, di ba? And she's[KC's] not like that."
HELLO DOLLY. PEP gets talk-time with the now controversialDolly Anne Carvajal at the press con for Lani Misalucha's concert yesterday, March 7.
Dolly begins, "She has every right namanto feel that way as a mom, but really I meant no harm. Sa mga isinulat ko, neverkong inilagay na nag-honeymoon or nag-spend ng weeks. Mali lang siguropagkaka-headline na they spent time together kasi ang expression ng 'spendtime' could mean a lot of things."
ADVERTISEMENT - CONTINUE READING BELOW
She explains, "Siguro na-misinterpret lang'yong pagkakasulat ko, but kahit sino namang magbasa noon, wala namang malice.Kasi ang masama siguro kung hindi pumunta si Lino sa Hong Kong, or Lino and KCare not dating. Pero siya [Sharon] na rin mismo ang umamin na totoo naman, so hindi korin makita 'yong logic sa sinasabi na mali 'yong sinulat ko, purokasinungalingan.
"Siguro hindi lang kumpleto 'yong detalye,but 'yong follow-up story naman, I even quoted Lino's text sa akin. Niliwanagko na it wasn't just Lino and KC. The family was with them. Siguro na-overlookko lang 'yon na ganoon. Hindi ako nakikipag-away kay Sharon, and I'd ratherkeep quiet about it kasi hindi ko naman ire-retract 'yong sinulat ko. Although,I made a few corrections after para lang masama 'yong detalye na gusto niyang[Sharon] masama."
She remarks, "To say na talagang mali 'yongsinulat ko, I think ano naman 'yon... Sana she'll also show some respect for myjob kung hindi lang 'yong friendship or 'yong pinagsamahan, kasi maliit langnaman 'yong mundo ng showbiz, so sana we can co-exist na lang peacefully."
FROM FRIEND TO FAN. Sharon was interviewed saying that she considersInday Badiday as her friend, but not Dolly Anne.
"Well, that's sad kasi naka-frame pa nga'yong cards niya sa akin. Ganoon ko trineasure kasi growing up... 'Yong eldest kosi Bianchi, idol siya so kada birthday nung anak ko, nandoon siya," says Dolly.
She continues, "But may dumating napagkakataon na ganoon, e, na may picture na hindi naman bold picture or picturena medyo in a compromising position si KC, so parang I took the liberty na langof printing it na... Philippine Daily Inquirer naman, pina-print naman.
"When we looked at it face value, walanaman masama doon sa picture, but siyempre iba 'yong sensibilities ni Mega andlahat naman siguro tayo may ganoon. Siguro 'yong sa kaniya, sobra na 'yon... I'mstill her fan. Kung ayaw niya ng friend, fan na lang ako."
ADVERTISEMENT - CONTINUE READING BELOW
INDAY BADIDAY. Dolly admits that she is hurt because her deceasedmother, Inday Badiday, is being dragged in the issue.
"That's why nga I'm sad kasi I know namanhow close they are. Pero if my Mom were alive, I don't think she'll be happynaman with all this is happening dahil maganda naman pagpapalaki sa akin ngMommy ko. I wouldn't do anything to harm people intentionally," she explains.
She adds, "Parang the job just calls forit and nakakalungkot lang na pati si Mommy nananahimik na... Pati 'yong kung anoman mga naitulong or kung ano mang pinagsamahan, hindi naman kailangan ungkatinpa 'yon. Let's just stick to the issue. Let's just stick to the facts."
MESSAGE FOR SHARON. "Siguro in memory of my Mom, sana matapos na ito,'wag na humaba. 'Wag nang bigyan ng ibang kulay kasi really kung rerebyuhin niya 'yong mga sinulat ko na, without being that emotional, wala talaga akomakitang masama sa isinulat ko. I will always say sorry when I know I'm wrong.When I know naman I'm right, I'll stick to my guns," comments Dolly.
A CHANCE FOR PEACE? Dolly wrote in her column, dated February 28, thatshe is "grateful to Sha for all the help she selflessly extended during my Ma'sICU days and my darkest hours."
Since Sharon's fiery statement came out,Dolly says she hasn't contacted the Megastar yet.
She explains, "Kasi mainit siya, e. Mahirapnaman kasi salubingin and Megastar 'yon, e. It's her prerogative na ganoon,parang she makes me feel so worthless. Parang ibalik mo 'yong dapat mongibalik, e...
"In due time, hindi ko man kayang ibalik,e, good karma naman always kapag tumulong ka sa tao. It's so sad na parang'pag nagbigay ka naman wholeheartedly, dapat hindi mo na sinusumbat."
ADVERTISEMENT - CONTINUE READING BELOW
She ends, "Siguro ano lang niya 'yon, outburst,so I accept all her words and all her accusations. Hindi naman akomakikipag-away."