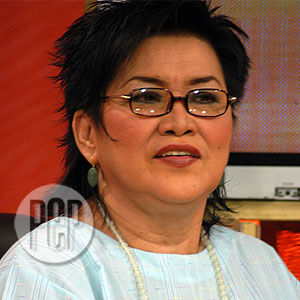 IMAGE 0
---
From the network ratings war to some star's Louis Vuitton bags, PEP (Philippine Entertainment Portal) users will speak their minds and share smart, sharp, and even funny comments that can prove more entertaining than our own articles! So once again, here are our Top 5 Comments, chosen by our Community Editor Elyas Isabelo Salanga.
LOLIT SOLIS SUSPENDED BY MTRCB FOR ONE WEEK
"alam ninyo, that is so ridiculous that the MTRCB suspended her, for one thing, PUWERTA should not even be an obscene word anyway, because PUERTA is SPANISH FOR DOOR. Any Spanish speaking Filipino would not even be shocked by that word. At sobrang overconservative the MTRCB, because I hardly doubt that Ms. Solis would be the type of person to use it in a bastos way like a comedian like Willie Revillame would, I've heard him say even more obscene things. The MTRCB is inhibiting the intelligence of our country."—posted by aracelie on April 16, 2007 at 14:41 PM
PEP COMMENT: Aracelie is just one of the hundreds confused, even outraged, by the move of the MTRCB (Movie and Television Review and Classification Board) to suspend Startalk host Lolit Solis and have her reprimanded by GMA-7 management for saying the word "puerta" on her Saturday afternoon show.
Araceli is right. Puerta means a door, an opening. Over time, it evolved to mean the opening through which a baby can come out, or the vagina. Lolit Solis used it in exactly that context.
The Startalk subject was about a star giving birth, to be covered by television. And the host/talent manager asked: "Talaga? Ipapakita lahat? Pati ang paglabas ng bata sa puerta?" Now, we truly cannot understand how in the world that can be lewd, malicious, and gross.
ADVERTISEMENT - CONTINUE READING BELOW
Because, if we were to accept that Lolit's statement is lewd, malicious, and gross, then we would have to accept that childbirth is lewd, malicious, and gross. And, sorry, but we will never think that. We will always see childbirth as a miraculous act of creation!
For decades now, the public—particularly artists, the well-read, the liberal, and every regular citizen with a strong instinct for freedom of thought—has been questioning the existence of the MTRCB. To what extent can it mediate? Is its interference not, in fact, control over movie and television content? And, therefore, control over thought?
The MTRCB is obviously, from its name, a "classification" board. In other words, it is empowered to "classify" films and television shows and radio programs according to Adult, Restricted, General Patronage. This is necessary, we agree, to guide society through the many choices before it. But the Lolit Solis case is urgent proof that, in policy and in practice, the MTRCB is a censorship board.
If the MTRCB continues to function in this manner, and justifies its actions with its Implementing Rules and Regulations and the outdated legislation from the Marcos era that created it, then this government body should admit this much: In the Republic of the Philippines, which believes it's a democracy, in the year 2007, there is official mind control going on—and the MTRCB is the body tasked to do it.
The MTRCB is Big Brother.
It's the new millenium, is the MTRCB relevant? Does it make society better? Or is it a political tool, period? Note that all its members, from the chairperson down, are appointed by the President of the Philippines. In other words, they don't need to qualify as artists or thinkers or wise citizens. They just have to be close to the powers and, voila!, they have the power to reprimand, memo, embarrass, cut, ban, and suspend. Those are awesome powers that need to be earned—if they are needed at all in the new millenium.
ADVERTISEMENT - CONTINUE READING BELOW
ABS-CBN IS NO. 1 NETWORK, SAYS PEP POLL
"Wow!! Hanga ako sa PEP kahit GMA-7 ang partner nila sa website na ito, sport pa rin sila kung sino ang tunay na winner. I both watch the GMA-7 and ABS-CBN here in States (mahal nga eh!) pero mas marami talagang palabas na maganda ang channel 2 specially ang mga teledrama, kasi parang makakarelate ka sa mga kwento at pwedeng mangyari sa totoong buhay. Sa GMA puro pantaserye nakakasawa na di ba? Anyways, Goodluck sa 2 network. MORE POWER TO PEP!!"—posted by dimple_69 2007-04-16 18:06:06
PEP COMMENT: dimple, that's right. ABS-CBN emerged on top of the PEP poll. Could be that its viewers were more energetic about logging on and rooting for their network. Could be that the viewers of the other network didn't feel a need to make their preference known. Those are casual comments we can make, why not? But the objective numbers say that, in the here and now, there are more Kapamilya loyalists. That is it.
We put out what we get. After all, we call ourselves the Philippine Entertainment Portal because we intend to cover everything there is about Philippine movies, television, theater, dance, music, and all the other trades and arts we have yet to organize for our site. We want to be the One-Stop Shop for Anything Entertainment. (All right, politics qualifies, but we're not terribly amused by it, so it can go elsewhere.)
We also, in case anyone doubts it, take our reporting very seriously. We apply the rules of journalism, same as any publication or broadcast station would over its reporting on education, science, government, human rights. This means we work hard at being accurate and fair.
ADVERTISEMENT - CONTINUE READING BELOW
The added feature of an online venture is, of course, speed. We are faster than the broadsheets, tabloids, magazines, or even television. We may even be faster than radio, unless they do breaking news. That is our strength. You get it here first!
But that strength can also get us into trouble. There will be mistakes along the way because we report news as fast we get them, and sometimes the news will have a detail or two in need of correcting. We work double-time to check details before uploading them—but when it happens that we still make a mistake, we mount the correction with the same speed with which we mounted the unfortunate detail.
Finally, the bigger feature of PEP is that it is interactive. You readers can come in and say your piece. We welcome these. We want to know what you're about. It's the only way we can serve your needs better. Which is why, when we do a poll like, "Which is the more popular station?," what we get from you is what we put out. Nothing more and nothing less.
Remember, the important thing to us is accuracy and fairness. Without these, we cannot be credible as any kind of portal—entertainment or not.
SYLVIA SANCHEZ TURNS CONCERT PRODUCER
"lalo kong hinangahan itong si sylvia sanches sa sinabi ni frida_kadiff, dahil sa lahat ng kasabayan nyang sex symbol ay siya lang ang naging successful sa personal na buhay at career as a dramatic actress. ngayon ay marunong pang tumulong sa sariling bayan, kaya pala lalo siyang pinagpapala ng Diyos."—posted by pinay_cali 2007-04-17 09:25:49
ADVERTISEMENT - CONTINUE READING BELOW
PEP COMMENT: Indeed, celebrities are increasingly seen by millions of people as role models. In this country, a poll has already shown that Kris Aquino is now more famous than her father, Ninoy. Particularly among the young, Kris is known, and her father only sometimes. Celebrities are becoming the spokespersons, not only for products, but also for ideas.
And because celebrities have that influence, particularly on the young, they would do well to make something of their lives. Some choose to do that largely through their craft—as actors in critically acclaimed films or box-office hits or both. But some, like Sylvia, will find their way into other concerns. When they do, we applaud. Like we applaud any regular citizen who goes out there and dares to do something different and productive.
PEP welcomes positive comments such as pinay_cali's. They're a great way to tell your favorite celebrities that you're interested in showbiz—but that you expect showbiz to be more than intrigue, scandal, or controversy. And they're a fine way for us to know once again that our readers are smart, sane, sassy—or all of the above.
GELLI DE BELEN REVEALS "HISTORY" OF HER LOUIS VUITTON BAG
"MORAL OF THIS STORY...Don't buy original LV, buy the fake. It is cheaper na, plus you get super friendly saleslady pa. Doble saya. SULIT."—posted by GUYnPEP 2007-04-17 11:03:02
PEP COMMENT: First of all, GUYnPEP is a cool name. Second, this is smart advice from somebody who believes in spending less but not getting shortchanged when she does. But, uhh, PEP needs to point out that just as we encourage posting positive comments, so do we encourage patronizing inexpensive—not fake—goods.
ADVERTISEMENT - CONTINUE READING BELOW
KRIS AQUINO NOT SURE TO RETURN TO THE BUZZ
"Just wondering if this woman's ever had a c-section before??? Kris, if you're reading this, do you even realize how long it takes to heal after a c-section? Golly! That's one major surgery and you think you can go back to work without any pain in 1 month? I should know, I've had 2 c-sections myself. I lost a lot of weight and healed a lot faster this time compared to my first c-section but still didn't feel completely normal until after a few months. Take note: MONTHS!!! Even people here in the U.S. don't go back to work until at least after 3 months. It seems like you'd rather be at work, showing people what a super woman you are after 1 month from your delivery date, rather than spending time with your precious kids. That's selfish. Sorry, but you're just not thinking straight. You haven't even given birth and you're already thinking of going back to work. Oh well."—posted by dfly101 on April 18, 2007 at 06:04 AM
PEP COMMENT: Dfly101 is clearly concerned. And thanks to her comment, we now have someone who can care about Kris Aquino's health and still be objective about what's wrong with Kris's moves. In any case, if Kris's interview with The Buzz yesterday, May 6, is any indication, the star may have come to the same conclusion. The workaholic host talked about her plans to spend more time with her family. Hurray for Joshua, James, and Baby James!
ADVERTISEMENT - CONTINUE READING BELOW