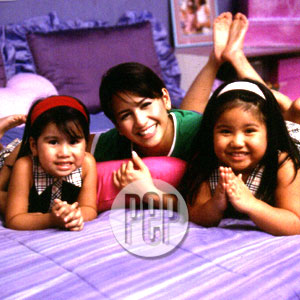 IMAGE 0
---
"Unang Hirit" segment host Regine Tolentino, 27, isenergy personified. Besides going to that live morning show every day, shetakes care of two hyperactive daughters, runs a dance studio at home where sherehearses and also teaches little kids, and manages her dressmaking factory andher boutique. What's more, she personally designs and even sews the clothesthat she and her daughters wear.
So where does sleeping fit in? "Sa car," laughsthe former MTV VJ.
Regine and husband Lander Vera Perez have been living separatelives since 2002. "But Lander and I are okay," she adds. "We'rein the process of working things out. He comes often to see the kids. And 'pagmay show ako, naiiwan ko naman sa kanya ang mga bata, or minsan,sumasama siya sa amin." (To date, Regine and Lander are more than okay. The two have reunited.)
Recently, Regine and daughters Reigne, 8, and Reigen, 6—yes, Momsimply juggled the letters in her name—moved from the Tolentino residence inWhite Plains to a newly bought and newly renovated seven-room bungalow in NewManila.
The transfer took a record time of two weeks!
"If I didn't do it right away, baka hindi ko na magawa,kasi masasabay sa iba kong activities," says the action lady.
The New Manila house, however, actually belongs to Regine'sparents.
"That's the reason also why Lander does not want to movein," she points out. "Parang he's not comfortable." At the time of this house shoot, their property in Eastwood would be finished by 2006, which was last year.
ADVERTISEMENT - CONTINUE READING BELOW
And Regine throws the doors of her house in New Manila wide open. Check it out, please come in.