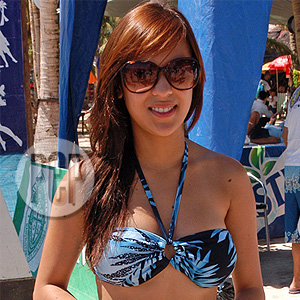 IMAGE 0
---
On April 18, PEP (Philippine Entertainment Portal) heads to Boracay to cover the celebrity edition of Nestea Beach Volleyball. As soon as our photographer lands on Bora's powdery white sand, he instantly springs into action.
And so, his camera clicks and catches more than a dozen of celebrities having fun under the sun—all in their swim wear and shades! The latter, as you may have noticed, has become a staple fashion accessory.
But shades or sunglasses, according to eye experts, should not just be used for fashion—but more importantly—for protection. Research shows that "too much exposure to the UV (ultraviolet) rays may damage the front portion of our eyes, and too much glare or brightness may damage our retina." The latter may cause permanent loss of vision.
Here are some useful tips when choosing your shades:
1. The color of the lenses should be considered when choosing the right eye piece for you. Dark lenses should keep your eyes comfortable, and not reduce your vision. Slightly brown or green tint functions to filter out the blue light, or the intense glare from sunlight bouncing off water.
2. The plastic lenses should be tougher than glass and less likely to shatter. Look for a pair with a scratch-resistant coating. Opthalmologist recommends that we check the lenses for distortion. To do this, put the shades on and look at a rectangular pattern, such as floor tiles. If the lines stay straight when you move your head up and down, and side-to-side, then the amount of distortion is acceptable.
ADVERTISEMENT - CONTINUE READING BELOW
3. Make sure it has UV protection. Look for a label that indicate the type and amount of protection against visible light, UVA (ultraviolet A), and UVB (ultraviolet B). When you're out at the beach, your sunglasses should provide 100% UVA and UVB protection.
Next time you hit the beach, don't forget to bring your sun essentials. Our local celebrities never go out without SPF (sun protection factor)—and of course—they never face the sun without a pair of shades. Click this gallery for the photos of our favorite stars in their shades.
(With additional information from www.allaboutvision.com)