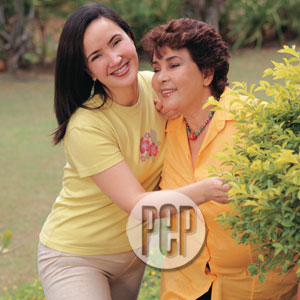 IMAGE 0
---
In the March 2003 issue of YES! magazine, Ms. Amalia Fuentes's home was featured. She was then 58, and she said she didn't feel like 58. And she revealed her secret.
Below is the actual article published in the said issue of the country'snumber one entertainment magazine.
The secret, she says, is content­ment. These days,grand titles such as movie queen or Elizabeth Taylor of the Philippines do notinterest her one bit. To grab her attention, call hera promdi.
And she hasgood reasons for being happy with that tag—with all of them having to do withTali.
If you want tosee Amalia Fuentes these days, chances are, you will not find her in her famousbrick house in New Manila, or in any of her other fabulous homes in themetropolis. You have to go all the way to Tali beach in Nasugbu, Batangas,where she owns a two-story rest house nestled on a 5,000-square-meter hillylot. It's worth the three hours of travel time. Not only is the viewbreathtaking; Amalia's legendary hospitality makes the visit grand.
"Bastanakasilip ako ng chance, 'yongwala akong business or commitment sa Manila, dumarating akodito," she admits. "Minsan one week ako dito, minsan twodays."
Despite thecostly maintenance—P7,000 a month on the average, excluding repairs,homeowners's fees, electricity, and the staggering water bill—she still findslife in Tali simpler. "Dito, kahit wala kang pera, puwede kang mabuhay,"she says. "Wala kang pera, magtanim ha. Meron ha nang konting ulam."
ADVERTISEMENT - CONTINUE READING BELOW
Amalia learnedabout Tali beach in 1959 from a former suitor. This suitor's family happened toown the entire beach property and was then already bent on developing it into aresort. The suitor, seeing that Amalia was a nature tripper, brought her toTali.
It was love atfirst sight—with Tali, if not necessarily with the suitor. Amalia says the oldTali reminded her of her days in Toril, Davao City, where she lived for threeyears, between the ages of 10 and 13.
Toril wasinspiration; Tali was foresight. Sensing a good investment, Amalia set asidesome of the money she was earning from acting and staked her claim on a2,000-square-meter prime lot, paying the owners P7 per square-meter. She wasthen 20 and a mother to three-year-old Liezl.
"I was oneof the first na nakabili ng lupa dito," says Amalia, clearly proud."Pioneers kami dito. No'ng dinala ko dito 'yong dalawa kong kapatid,sabi nila, 'Naku, Nena, ang feeling namin sa'yo para kang si Magellan nanaka- dis­cover ng Pilipinas.' Kasi ang mga dinaanan namin, hindiganitong patag na. Rough roads talaga! But when we arrived naman, itwas so pristine, as in napakagandang lugar. Siguro apat pa lang ang bahaydito. Right away I made up my mind that I was gonna have my rest housebuilt here."
But the buildingof the house—originally made of nipa—came a year later.
First, sheplanted.
"Nagtatanim-tanimna ako pag weekend," she recalls. "Dadalhin ko 'yong Volkswagen, magpa-park akodo'n sa favorite spot ko ngayon—where I view the sunset—and that's where Iwould sleep. Gusto ko lang mataniman muna 'yong lote. Pag nagtanim ako, puso sasides, because I knew I was gonna buildmy house in the middle."
ADVERTISEMENT - CONTINUE READING BELOW
In 1960, inbetween shots, Amalia started building her rest house. She wanted to and sheneeded to: showbiz life was stressful! Plus, she wanted the young Liezel todevelop a sense of country living. "That experience in Toril stood out in mymemory. Na 'yon bang survival? Para kang nasa jungle."
By 1961, thehouse was habitable. But electricity would come to the area only many yearslater.
"Maymaliit lang akong parang genera­torna mga hanggang alas-diyes lang ng gabi. Minsan romantic nga, candlelight, and eve­rything. And we used to sleep in the bal­cony pagka walang hangin.Pagka may hangin, magmumuskitero. Ang advantage no 'ng wala kang electricity,sa gabi matutulog kami nang maaga para the next morning we wake with thesun. Kasi ayan 'yong araw, tumatama na right in our faces."
For manyweekends over many years, Amalia's beach house was the Muhlach clan's gatheringplace."Pito kaming magkakapatid. I was the eldest. Alex enjoyed hisfishing here. Si Cheng, swimming. Nakakapagdala siya ng mga girlfriendsdito. We had great family gatherings here. This was where we wouldgather every weekend, and it made us closer as a family. My mom was here andshe was happiest because she would see all of us here."
Thesecond-generation kids—Liezl, Aga, Nino—spent a large part of their growing upin Tali. "Si Nino, dadalhin siya dito ng Papa Alex niya, and thishouse saw many of his childhood performances. Si Cheng naman, ang dala, siAga at si Arlene. Anna-Lissa spent many happy days here with her cousinsand friends."
ADVERTISEMENT - CONTINUE READING BELOW
"Lahatkami lumaking mahilig sa tubig," Liezl seconds her mother. "I was even in the swimming teambefore at I.S. [International School]. No'ng time namin, hindi pa uso jetskidito, kaya puro swimming lang talaga."
Now it's theturn of Amalia's grandchil­dren to enjoy Tali. Liezl says her kids come herealmost every weekend. "They all know how to waterski. Anggagaling."
Over the years,the Tali house has undergone a lot of changes. Eventually, nipa and bamboo gaveway to steel and concrete. The main house has been converted into the kitchenand dining areas, while the extension soon became the receiving area.
Through it all,Amalia was the sole architect and contractor. There were times she herselfdelivered—and carried—floor tiles to Tali!
"Tingnanmo 'yong ibang bahay dito. Dalawang taon pa lang, sira na ang bubong, faded na ang pintura... Iniasa sa contrac­tors,paano," says the take-charge star.
"Ang essence lang ng bahay na 'to... it'snotso much para magpabongga. Ang katwiran ko, ayoko naman namagandang-maganda ang bahay ko, 'tapos uutangin ko sa bangko. Pumupunta nga akodito para 'wag ma-stress e. Kung alam kong, 'Naku, six million paang utang ko dito, ang laki ng interest na binabayaran ko,' masisira'yong peaceful existence ko dito, hindi ba?
"The houseis just so we have a place to come home to at the end of the day. To have aplace na we can pursue our outdoor activities—speedboat, jetski,snorkeling, sightseeing, deep-sea diving. Kasi, hindi naman 'yong bahay ang pinupuntahan dito,e. They come here for the beach, the sea.
ADVERTISEMENT - CONTINUE READING BELOW
"Isa pa, ayoko'yong magwo-worry ako. 'Hay, ang aking gamit. Hay, ang aking sahig, bakamatuluan ng ganito, ng gano'n.' Ang gusto ko, everybody is relaxed when theycome here."
Now Amalia hasalso acquired the 3,000-square-meter lot adjoining her original2,000-square-meter property. On this she plans to build another house soon.
"Itong originalna bahay, ibibigay ko na kay Anna-Lissa," says Amalia, feeling understandablywonderful.