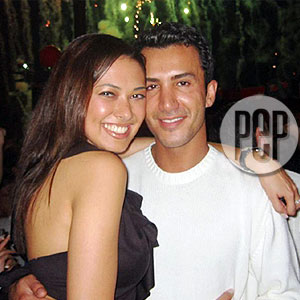 IMAGE 0
---
Speculation has been going on for some time now that the marriage of Ruffa Gutierrez-Bektas to Turkish millionaire Yilmaz Bektas was on the rocks.
Ruffa's stay in the Philippines has been prolonged, and her visits have become more frequent. People could not help but wonder why a married woman like her would choose to be away from her husband.
Today, May 8, Ruffa confirms thru Ricky Lo's column in Philippine STAR that the speculations about her marriage are true—she and Yilmaz are headed for Splitsville.
Ricky's article says that Ruffa and Yilmaz "have parted ways" and have "agreed to file for an annulment" after four years of marriage.
In Ricky's phone interview with Ruffa, the former beauty queen stresses that there is no third party involved. "There's no other woman," she says to Ricky while sobbing. "It's so painful to both of us because we deeply love each other."
The piece cites "cultural differences" as the main reason behind their split. Furthermore, it reveals that Ruffa "hasn't been sleeping well these past few days, mulling over his [sic] and Yilmaz's conjugal problem."
The actress/beauty queen/model/TV host adds, "Honestly, we tried very hard to make our marriage work, but then..."
She continues, "We did try very hard to iron things out but we failed. In the past four months that I've been here, Yilmaz and I tried to sort things out, but things just wouldn't work out."
According to Ruffa, her husband had wanted to come to the Philippines with some members of his family to thresh things out once and for all to save their marriage. "But I stopped him from coming," Ruffa affirms.
ADVERTISEMENT - CONTINUE READING BELOW
She says, "We love each other so much, and we parted amicably. We will remain loving each other. Still and all, nobody can erase the fact that Yilmaz is the father of my daughters [Lorîn and Venice]."
According to Ricky's column, Ruffa is already discussing the legalities involved in an annulment with her lawyer.
"Yes, everything is final," replies Ruffa when Ricky asked her if everything is final and if their mutual decision is irrevocable.
Ruffa and Yilmaz were wed at The Fort on March 25, 2003. They have two beautiful daughters, Lorîn, who will turn four, and Venice, who will turn three this year.