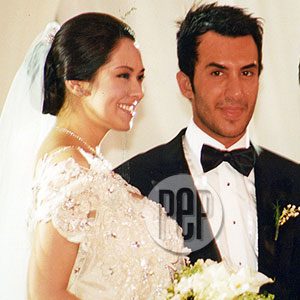 IMAGE 0
---
JEALOUSY. "I never expected them to stay togetherthis long," said Ruffa's mother, Annabele Rama, about their marriage in aninterview with the Philippine Daily Inquirer on July 2004.
She explained, "Ruffa would be jealous about what sheimagines to be another woman in Yilmaz's life. The same thing with Yilmaz...Yilmaz would often come running to me and show bruises or scratches that Ruffahad inflicted on him. I would tell him to be patient with Ruffa, to love herthe best way he can."
Annabelle stressed that Yilmaz did not get violent orphysical with Ruffa. The couple is extremely jealous by nature, but they'vemellowed down since Lorin's birth, explained Annabelle.
In an interview with YES! in 2004, Ruffa admitted, "Ithink now there's no reason to get jealous. He knows that he can trust me and Iwill not do anything that will hurt our relationship, or do anything withouthis permission. Everything that I do, he knows. Pero nagseselos pa rin siya,ha. Pareho lang kami. I mean kung walang selos, ibig sabihin wala ngpagmamahal."
Ruffa said that they've matured enough, enough to be able tolaugh about their jealous streaks.
"I think it's just more of like trying to test each other,if you still get jealous. He'll be like, 'Oh you know, I like this model.' Andthen I'll be like, 'Oh', I like Tom Cruise.' Naglolokohan lang kami. But younever really get jealous seriously to the extent na talagang galit na galit ka?No. It's all just like playful fun," she explained.
ADVERTISEMENT - CONTINUE READING BELOW
She added, "All his crushes naman are harmless, like NicoleKidman, Catherine Zeta-Jones... Diyos ko, Britney Spears. Di, okay lang. Di,magka-crush siya. But I think, like, regarding a third party? I think we're toomuch in love to ever think about that. And definitely, I will not allow that tohappen. I will do anything to keep our family whole. And I'll fight for ourfamily. And I want us to be solid like a rock. And I think he'll do the same.He's more protective, he will not also allow it to happen."
In an interview with Jackie Regala, Ruffa expressed herthoughts on commitment a year after her wedding to Yilmaz.
She noted: "In fact, our relationship has developed intosomething far richer than my early romantic view. We have lived through all theintrigues, birth of our lovely first born Lorin, disappointments and sorrows,as well as the all the pleasures of an enduring relationship. We have workedhard to arrive at a place of ease with one another and our circumstances.
"So what exactly is commitment? For us I believe it isdedication to common purposes, a willingness to grow and learn, faith andcourage in difficult situations and adaptability. It implies focused attentionand hard work. I must admit that the past year has molded and matured me. Allenduring relationships go through many phases. Ironically, it is often the mostdifficult situations that serve to strengthen relationships. In our case, mybeing in show business and all the quirks that go with it has moved us from ahardworking couple to a deeper, fuller commitment to each other and ourrelationship."
ADVERTISEMENT - CONTINUE READING BELOW
She ended, "Happy 1st year my handsome, sweet Prince.Looking forward to more years ahead with you if not forever!"
VENICE. "Proud parents, Yilmaz and Ruffa r proud 2announce the birth of their 2nd little angel... 12:17 pm @Cedars-Sinai Medical Center. She was 5.3 lbs. and 17 inches w/ a normaldelivery. We have 8 days to think of a name so we'll keep you posted," saidRuffa in a text message to everyone who is listed in her cell phone on September 11, 2004.
The baby was named Venizia "Venice" Loran Bektas—thecouple's second daughter born in America, incidentally on the same day as theanniversary of the attack on the Twin Towers in New York. Venice was born three weeks aheadof schedule. Yilmaz was not on Ruffa's side during delivery.
Yilmaz's absence sparked rumors that the couple isseparated.
In an e-mail to Oliver Carnay published in Carousel Pinoy,Ruffa defended her husband: "First of all, Yilmaz is not a showbiz personality.It's not in his nature para magpakuha ng pictures sa press, magpa-interview samga TV shows, and magpa-cute sa camera katulad ng ibang non-showbiz na nag-asawa ng artista.
"He is a serious businessman from one of Turkey's mostconservative and powerful families. He married me and accepted me for who I ambecause he loves me at tinanggap din niya ang mundong ginagalawan ko...angmundo ng showbiz. He only agreed to be interviewed at our wedding simplybecause I told him to. Yilmaz values his privacy and that of his family like atiger protecting his cubs. Don't you remember Lorin was not allowed to bephotographed until she was 3 months old? Pumayag lang siyang kunan kami sa mgaglossy magazines because we wanted to make my fans happy.
ADVERTISEMENT - CONTINUE READING BELOW
"If it were up to him,he would have me locked down by his side 24 hours a day, 7 days a week and justbe a wife to him and the perfect mother to his kids. But because he wants me tobe happy, pinagbibigyan niya ang mga hilig ko at ang mga luho ko.
"I chose to give birth in LA for 2 straight years because Iwant my children to have the best of both worlds. If Yilmaz had his way, hewould have me give birth in Istanbul pero ako ang makulit. Who cares if I'mseparated from him for 3 months when I'll be with him for the rest of my life?He's coming in a week though and we can't wait to see each other!
"Thank God I'm breastfeeding cuz if not, baka mabuntisna naman ako! For those of you who are wondering where he is, don't wonder. Iknow exactly where he is 24 hours a day and that's all that matters. Allow usto live our lives and be happy. We don't live for you...we live for our family.If it's okay with us then why shouldn't it be okay for you?
"As for the parties...those are not considered 'BIGOCCASIONS' for us... wala lang akong magawa so why not throw a party here andthere? Oh, and Lorin had a huge party in Istanbul as well...bigger than the onein Manila. The only difference was...it was not publicized."
THE WITCH. In most fairytales, a witch comes along towreak havoc. In this fairytale, a bullet and a frog made the year 2005 acontroversial one for the couple.
ADVERTISEMENT - CONTINUE READING BELOW
March 15, news from halfway around the world that Yilmaz hasbeen injured—a gunshot to the stomach, to be exact.
Turkish newspaper, the Hurriyet, reported that Yilmazaccompanied a friend to a car shop. Yilmaz's friend was supposed to meet andmake peace with a man he had a fight with the day before. The meeting endedwith shots being fired, leaving one dead and two wounded—Yilmaz and his friend.
"He was shot and for one week atthe ICU and during his recovery period, I never left his side... We became muchcloser after that incident. Noong mag-boyfriend pa lang kami, we fought a lot,but now, we've mellowed and our relationship is more peaceful. Yilmaz has alsolearned a lesson, not to be too trusting, as the guy who shot him was supposedto be his friend. Pero ayun, he fled and can't be found," said Ruffa inan interview with The Filipino Express months after the incident.
November 25, PEP contributor Nitz Miralles wrote in hertabloid column that Ruffa's guesting in defunct reality show Extra Challengecaused trouble in the Bektas household.
Apparently, Ruffa did not mention to Yilmaz that she wasgoing to be on the show. It was said that Yilmaz also got into an argument withAnnabelle.
In an interview with Walden Sadiri, Ruffa explained theincident, "Pinagalitan ako ni Puppy [Yilmaz] because of Extra Challenge.Sabi niya I didn't buy Fashion TV for you just so you'd jump from coconut treesand catch frogs!" It has been reported that Yilmaz bought the Turkish franchiseof the cable channel for Ruffa to manage.
ADVERTISEMENT - CONTINUE READING BELOW
By the end of 2005, reporters would automatically ask Ruffathe status of her relationship with Yilmaz every time she would arrive in thecountry.
Part3 of Ruffa and Yilmaz: TheEnd of a Fairytale?—Tell-tale signs of the end of the fairytale