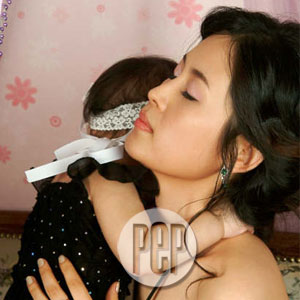 IMAGE 0
---
The stress and pressure brought about by the elections may be over, but Mark Lapid has yet to survive another bout of controversy in his life.
First, there is the allegation that he is "immoral and dishonest." This was made by a woman who called herself Yuri Park in an email to PEP (Philippine Entertainment Portal) on May 8. She hit Mark for his "denial" and "silence" about allegations that he is, in fact, "a married man and a father."
Yuri, a Korean who claims that she is the "legal wife" of Mark, divulged her story to the media on May 8. The next day, PEP put out a comprehensive article about her revelations, including the major details of their "divorce" papers, which were filed by Mark on March 12.
Second, there is the accusation that the actor-politician is a "liar." This was made by his political rivals, who accused Mark of withholding the truth about his civil status in the COC (Certificate of Candidacy) he submitted to the COMELEC (Commission on Elections).
ADVERTISEMENT - CONTINUE READING BELOW
The camp of Pampanga vice gubernatorial candidate Yeng Guiao, who was Mark's runningmate during the May 2004 elections, filed a disqualification case on May 10.
All these happened exactly a week prior to the elections.
The son of Senator Lito Lapid issued a brief message to his fellow Kapampangans through Imbestigador on May 12, "Sana naman, 'wag pulitika ng paninira kundi pulitika ng programa ang umiral."
One of his political allies, Fidel Arsenas, spoke for the incumbent governor and said that all the rumors are "not true."
Yuri, for her part, became quiet after she said her piece in a phone interview with 24 Oras on May 10. PEP emailed her a few more questions, and waited for a few more days for her reply.
On May 12, we got an email from Mark Lapid's "legal wife" with "I'll send you my statement and more pictures soon," as subject. A few minutes later, she sent photos and a long statement answering most of our questions.
ADVERTISEMENT - CONTINUE READING BELOW
(Note that the ensuing paragraphs enclosed in quotation marks were extracted verbatim from Yuri's email.)
Why did you come out?
"The report on the status of Mark as a married man and a father is true. I exposed this truth for the sake of my daughter, Maria Cassandra Park Lapid, who was denied by her own father. To date, Mark's silence on the issue is a continuous denial of our existence in his life. Sadly, this is a distressing reality for my daughter especially when she comes of age when she will understand how and why her father denied and abandoned her. I just worried my baby Maria Casandra Park Lapid as a mother."
Why did you choose to contact media before the May 14 elections?
"I am not, in any way, connected with any politician or anybody that influences my decision. The media and the news agencies will prove that I went to them straight without the help of anybody. I allowed my story to come out because, Mark treated us badly.
ADVERTISEMENT - CONTINUE READING BELOW
"Whether or not my story came out a week before the election is irrelevant in so far as the tragedy that fell on my family, my daughter in particular, is concerned. The timing of my exposure will not change the fact of my marriage with Mark Lapid and the birth of our baby."
Where and when did you meet?
"As had been reported, I am a Korean citizen. I finished my college in Korea and studied in the US for two years. I was a school teacher here in Korea before I married Mark Lapid. I met my husband on a family vacation in the Philippines at the Mimosa Golf Course.
"My parents and I play golf whenever we can. I met Mark at the Mimosa Golf Course where I was invited to play with Mark, Concon Laus and another gentleman. At that time, I thought Mark was simply working in the government. It never occurred to me that he was the Governor of Pampanga because he was very young."
ADVERTISEMENT - CONTINUE READING BELOW
How would you describe your "marriage" to Mark?
"We married in Las Vegas in 2005 March. I lived with my Philippine family, Mom Marissa and Mark's sisters and brother. It was a precious time for me. I was very happy to become one of them. I learned to cook Philippine food [...Adobo is one of my specialty, but I love senator's lelluk manook the most. I hope to taste it again...], culture and language."
Yuri added, "In fall, I delivered Maria Casandra Park Lapid. We were so happy. I am sure Mark cannot forget the scar on my tummy as I delivered by caesarian operation. Mark was very happy to cut Maria's navel string. Mark was the first person that Maria saw when she was born. The secret Pampanga princess was born with grace. How can Mark abandon his own daughter?"
Why did you and Mark keep the "marriage" secret?
"I trusted him when he told me to keep our marriage secret until after the 2007 elections. He especially told me that it was hard for him to go to the US for a while because the vice governor was attempting to get his seat at that time. Of course, as any wife would want, I also wanted to live with my husband.
ADVERTISEMENT - CONTINUE READING BELOW
"We once loved each other deeply and dreamed of a happy family life. My baby needs to be with her daddy but Mark kept on telling me we can be happy together in the Philippines after the election. Every time he would tell me that he has a lot of lady voters and they will not like it if they know that he is married. I lived silently raising Maria. I took everything in, including the rumors of his affairs while Mark was enjoying his single life.
"Maria's christening was made a secret and her 1st Birthday was celebrated without her father or any of the Lapid Family, in all I trusted him and bear all the hurt. I trusted him with all my heart because I thought that as a husband, as a father, and as a public servant that he is the most honorable man."
What was your reaction when you heard about Tanya Gracia?
ADVERTISEMENT - CONTINUE READING BELOW
"I was very hurt when I read the news about Mark giving a diamond ring to Tanya Garcia. Around that time, he stopped giving child support already. I could not understand how he came to have no resources for our baby but can afford to give expensive gifts.
"Mark's petition for divorce offered 200USD for child support. Where money is no object. If this is only how much you value your daughter, I am telling you now that I will raise my baby with dignity. I just hope you to behave as a father who care about his daughter with a respect.
"I was blown off by the news of Tanya Garcia's pregnancy but no pain could compare when I learned Mark saying that Tanya's baby is the first Lapid baby which gives them much happiness and which they are all filled with anticipation. I decided not to let him lie in public anymore. It's a tragedy."
ADVERTISEMENT - CONTINUE READING BELOW
[Yuri was referring to the article "Mark Lapid cut child support—claims 'wife,'" which was uploaded by PEP on May 10.]
What do you wish to happen?
"Since my story was released, I was waiting for Mark's confession and admission of our marriage and of our daughter. An apology to our daughter and him announcing it to the world and be proud of it would have been something Maria can strongly hold on to with regards to her father when she's old enough to understand.
"I read that Tanya laughed about the news and was quoted saying that she knew about us. I was deeply pained by her reaction. I was hoping that she would have seen where I stand as the legal wife and mother of Mark's firstborn. Whatever happen, with all my strength as a woman and as a mother, I am going to raise Maria well. I am going to raise her as a proud Filipino and will grow to love the Philippines."
ADVERTISEMENT - CONTINUE READING BELOW
PEP contributor Rose Garcia has tried getting a statement from Mark, but the latter opted to keep mum on the issue. An article which was published earlier today, May 15, stated a brief text message from Tanya, "Ayaw na magbigay ng statement ni Mark.... Nasa abogado na raw lahat, e."