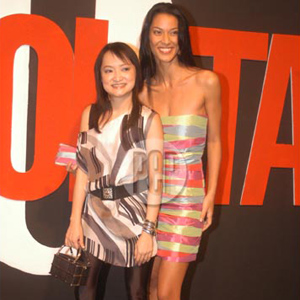 IMAGE 0
---
The Rockwell Tent in Makati City became a haven forbachelors in various levels of undress, all done in the name of Cosmopolitanmagazine's party dubbed as "We're Cosmopolitan!"
Guests of the 10th anniversary party were promised a "Cosmo-doseof sugar, sweets, and sweeties" to celebrate the publication's first decade inthe country. Indeed, loyal Cosmo girls were treated to Rockefelleroysters, chocolate-covered goodies, white wine, and plenty of eye candy duringthe Cosmo blowout held at the Rockwell Tent in Makati City last May 3.
At around 9 p.m., acting editor-in-chief Zo Aguila stood uponstage and delivered a passionate speech wherein she declared that she was "atrue-blue fan of Cosmopolitan magazine."
Zo narrated how Summit Media's Robina Gokongwei-Pe and LisaGokongwei-Cheng "took the leap" and launched Cosmo in May of 1997. Shealso gave this tidbit: "Did you know that 71% of Pinays today think they'rehot?"
She continues, "A decade ago, the Pinay was definitely farfrom feeling as confident. In fact, in a lot of ways, she was very manang,too dyahe, a little overly reserved, and almost too meek to a fault."
The acting EIC of Cosmo reveals that "bringing in thefirst international title to Philippine shores was definitely no joke."
As a result of their hard work, Cosmopolitan nowbelongs to the top five locally published magazines in the Philippines, basedon research conducted by Synovate,a leading global market intelligence company. The other top publications areSummit Media titles such as FHM, YES! Good Housekeeping,and Candy.
ADVERTISEMENT - CONTINUE READING BELOW
Right after Zo's stirring speech, Cosmo did a doubletake and presented the ladies with foreign and local models all proudly baringtheir muscular torsos.
The creative force behind theevent, Robbie Carmona, describes the concept behind the brief but tantalizingshow: "It's actually a fun, fearless party just for all the females like you. Iwas so inspired with the movie Spartans so I brought in a lot of guys,there's a lot of abs for you girls to enjoy." [The Spartans thatheis referring to is the movie 300, which starred 300 Spartans allsporting rock-hard abs. However, due to budget and space constraints, therewere only around 30 hunks that showed off sculpted physiques that night.]
PEP (Philippine Entertainment Portal) spotted severalcelebrities that night including two-time Cosmo cover girl PhoemelaBaranda, model Joey Mead, fashion designer Kate Torralba, Cosmocenterfolds Will Devaughn and R&B singer Jay-R as well as teen fashionistaIC Mendoza.
Showbiz personalities showed their support as well as theirgratitude for the local edition of the largest young women's magazine in theworld. As Phoemela put it, "When you make it to the cover of Cosmo, Imean that's it, you're on the top list already." She adds: "I want to thankCosmo for always putting me in the editorial pages and I also made it to thecover. I was able to go to Guam because of Cosmo—we did a shoot there.Most [of] my pictures for my portfolio are from Cosmo."
When PEP asked commercial model Will how Cosmo changedhis life, he said, "People would recognize me more now. Every now and then Iget my pictures taken, it's really so flattering. It's unbelievable. [Although]I'm still very grounded."
ADVERTISEMENT - CONTINUE READING BELOW
Incidentally, Cosmo has created its firstdouble cover this month featuring Mega daughter KC Concepcion and hunky Piolo Pascual. This also marks thefirst time that a man has graced Cosmo's cover. The May 2007 issue of Cosmopolitan magazine is now available in allbookstores and magazine stands nationwide at P150 per copy.
Click MORE PICTURES to view photos of the chic and sexy party hosted by Cosmo.