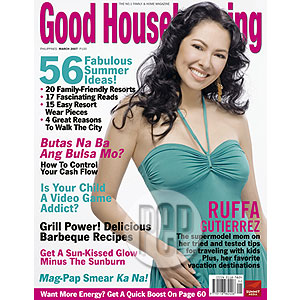 IMAGE 0
---
May is a special month for all the moms in the world. If not for the elections, PEP (Philippine Entertainment Portal) would have put out this list last May 12. But Star Wars tentatively occupied our Top List boxes.
And if you come to think of it, Mother's day should not be a one-day celebration. With all their efforts to make this world a better and brighter place, every day should be dedicated to them.
Jing Lejano shares her list of favorite cover moms. She also gives a brief explanation on why she included these hot celebrity mamas in her top picks.
Lucy Torres Gomez
"Who wouldn't fall in love withthis lovely lady? She's probably one of the most "real" celebs we've ever met.She goes to a shoot alone, minus assistants or alalays. She even schedules herpictorials. No go-betweens, you text her and she'll answer.
"At our shoot forthis month's cover, Lucy was in a hurry to finish things because Juliana wassick and had to be taken to the doctor. Still, she had herself made up and styled, and didn't leave till we got everything right."
Lea Salonga
"Ever the professional, Lea did not letthe fact that she just gave birth and was nursing her daughter get in the wayof her commitments. At our shoot for the October 2006 cover, she brought herbaby along, and would disappear for a couple of minutes at a time to breastfeedher. That's our kind of mom, always ready with solutions to seeminglycomplicated problems."
ADVERTISEMENT - CONTINUE READING BELOW
Carmina Villaroel
"This woman is a livewire, and soare her kids, which just adds to the whole merry drama. An added bonus: herpartner Zoren, who is the sweetest of hands-on dads."
Dawn Zulueta
"Who did not get caught up in her desire tohave a child? And did we not all rejoice when finally her dream came true?"
Ruffa Gutierrez
"We love her! She is such a joy towork with, always at the ready with her kuwentos, no matter what's happening inher personal life."