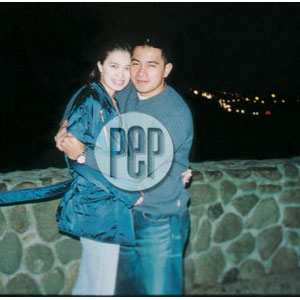 IMAGE 0
---
The Mediterenean honeymoon cruise that began in Florida anddocked at the Bahamas was a gift from a ninong. For this, Cesar Montano, at 38 (now 45) a veteran of trips to America,Australia and Europe, traveled light; she, at 23 (now 28) largely confined to U.S.trips, traveled heavy. She luggedmake-up, shoes, jackets, and gowns, after all, for the formal cruise dinners—not to mention the party invitations from friends in various stopover places.
Even Cesar was forced to put on his tuxedo after a Filipinoin the crew recognized him, whispered to the captain that he was a big moviestar, and was that constantly invited, with his beautiful bride, to join thecaptain's table for dinner. He andSunshine also had to be attired right for all the music and dancing that followed.
The loveboat offered everything on board—tennis court,gym, sauna, etc.–but the couple loved the pool best. They were also excited about being able toorder "any kind of food 24 hours a day!"
So the honeymoon went well?
Buboy—Cesar's nickname—laughs, "Aba, biro mo, one weekna wala kaming away! Paano, kaming dalawa lang. Dito puwede siyang tumakbo sa nanay niya, doon, talagang kamilang!"
They have lover's spats all the time, it seems. He'sextremely orderly about things. She has so much stuff they can't fit even inclosets he prepared in time for her arrival in his Quezon Cityhome. And the littlest things set themoff, who takes a bath first? Where in the world are his shoes? When will she beready?
ADVERTISEMENT - CONTINUE READING BELOW
In any case, he thinks it's all perfectly normal. "Ordinaryong tao lang kami. Kung mali ang almusal ko't mainit ang uloko, away na. People think that becausewe're showbiz, we have a showbiz marriage. Hindi. Kung anong problema ngordinaryong mag-asawa, problema rin namin."
Still, there's no denying it was bliss during thecruise. An ecstatic Buboy says, "Oncein your life, you must try it!"
Hehimself already has his sights set on the next cruise.