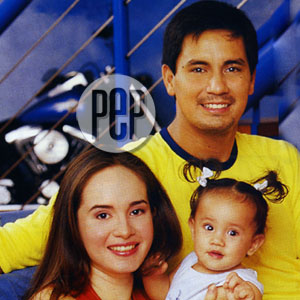 IMAGE 0
---
Richard Gomez, 35 (now 41), wanted only the "basic essentials" in his home. But being an actor, a sportsman, and, but for the uncertainties of politics, also a congressman, his basics tend to encompass high-end features. Good thing that none of it spells "luxury." Instead, what comes across is a no-fuss house where every piece looks to have landed in fine order where it must.

Lucy Torres, 26 (now 32), smiles, "When I moved in with Richard after our marriage, 98 percent of the house was already furnished. I just added some details such as picture frames, pillows, flowers, the cover of die sofa which I changed so often."

Of the P21-million 780-900 sq.m. property he bought in 1995, Richard says: "I said to myself then, 'If I don't buy this now, I won't be able to buy this in the years to come.'" True enough, the property is worth roughly P75 million today, sans house.
ADVERTISEMENT - CONTINUE READING BELOW

Or it might even be said to be priceless now. After all, Richard, Lucy, and one-year-old Juliana have since made it a home.
Richard Gomez bought the Greenhills lot in 1995. It came with a house but this was torn down to give way to Richard's dream home. That same year he sat down with RJ Borromeo, Eric Roa, and Manny Borromeo of BRB Design to work out the design concept. Cousins RJ and Manny describe Richard as a very hands-on client who held weekly meetings, met with suppliers, and personally picked furniture pieces and lights on his trips abroad.
In one meeting Richard amazed the group by showing up with a box loaded with clippings from foreign home magazines, catalogues, and Internet materials. RJ recalls, "What Richard wanted was something very minimalist, something like a box, modern-looking with large windows, and maximized spaces."

The group then proceeded to study the designs of Richard Meier, an American architect famous for structures maximizing natural light, something Richard was particularly partial to.
ADVERTISEMENT - CONTINUE READING BELOW

For his part Richard also consulted with Channel 2 executive Johnny Manahan, who had helped him with die interiors of his earlier townhouse, about space layout.

But in fact Richard knew exactly what he wanted.

As Manny, says, "The house is very rectilinear. If you look at the house in any angle, you'll see a lot of straight lines, squares, rectangles, and a few curves... The house is actually him. Richard is a very straightforward person."

RJ, says as much: "The easiest part of the construction was dealing with Richard because he knew what he wanted and more or less we had the same ideas in mind. He was not scrimping on the budget because it might sacrifice the whole look." In February 1996, actual construction began. Two contractors were hired. One for the roughing-in stage or for the house foundation, which required 25 to 30 men working over four to five months straight. A second for the finishing stage which required a crew of 15 to 18 working over a longer period of time.
ADVERTISEMENT - CONTINUE READING BELOW

In late 1997, Richard moved in to his brand new house.