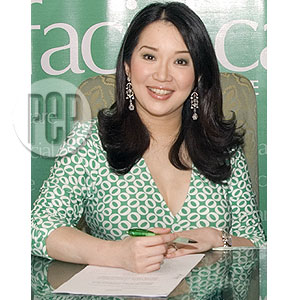 IMAGE 0
---
It's confirmed: Kris Aquino recently signed an endorsement contract with Facial Care Centre, a beauty company in direct competition with the Belo Medical Group.
Kris has been a leading endorser of the Belo company for years.
Rumors about a transfer began after Kris took offense with Vicky following the James Yap-Hope Centeno controversy. It will be remembered that Kris's husband, James, was said to have carried on a 10-month affair with Hope, a receptionist at the Belo clinic. Since that incident, relations between Kris and Vicky have been strained.
In an earlier interview, Dr. Belo expressed her desire to patch things up with Kris and that Kris's endorsement contract with the Belo Medical Group be renewed.
But some wishes do not come true.
Last May 31, in a closed-door meeting, Kris signed an endorsement contract with Facial Care Centre at the Sofitel Philippine Plaza Hotel on Roxas Boulevard. She was accompanied by her business manager, Boy Abunda. Only a handful of officers and staff of the beauty company was around to witness the event. No media or outsiders were invited.


"We really want to keep it hush-hush until our billboard teaser comes out at the end of the week. But since news about it is spreading, it's best that the facts come from us," said NJ Torres, PR of Facial Care Centre.
He adds, "We are also planning to put up a billboard at the end of the month, complete with print ads."
Kris now joins Cherie Gil, Carmi Martin, and Cristina Gonzales as endorsers of Facial Care Centre. The TV host-actress will be endorsing Refirm Treatment, the latest trend in facial rejuvenation.
ADVERTISEMENT - CONTINUE READING BELOW
"We would like to stress that Kris will be endorsing a facial treatment and not anything for the body. The beauty procedure uses laser to tighten her skin which bloated during her recent pregnancy," says NJ.
A reliable source also confirmed that Kris was free from any liability as far as her contract with the Belo company is concerned.
Dr. Belo, however, was not available for comment.