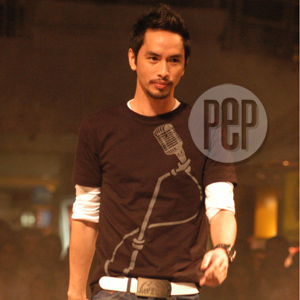 IMAGE 0
---
It was quite a surprise to hear rock musician Rico Blanco talk about his art as products brought to life without "over thinking but mostly through pure imagination and gut feel."
Rico is, after all, the guy responsible for writing songs that have served as anthems for his generation for over a decade now. His songs—poetic, playful, many times profound—can only come from someone who has sensitivity and a deep understanding of the taxing yet rewarding process of turning emotions into tangible art.
This is concrete proof that the guy is a natural talent.
Now, another proof of that natural talent. Taking a break from weaving great melodies and lyrics, Rico has collaborated with clothing giant Human on an interesting line of apparel designs.
These past years, Rico—who is also into painting and photography—has been dabbling with design during his spare time. One look at his ideas and it is easy to conclude that the famous frontman of the famous Rivermaya favors a minimalist approach with splashes of visual quirkiness.
(Lately, the music community has been agitated by reports that Rico has left the popular '90s band.)
The launch held last June 1 at the Glorietta Activity Center in Makati City unveiled Rico's creations—casual yet dressy tees that can be worn alone or thrown in with other items like a vest or any preferred top.
"I enjoy designing as I enjoy doing other things. I think if you're an artist you just don't stick to a certain kind of art form," says Rico about his new endeavor.
ADVERTISEMENT - CONTINUE READING BELOW
Rico's designs stay true to his personal style, which crosses between laidback and fashionably edgy.
Human seems to have recognized the need to get Rico's unique ideas out to the public.
"We're very excited for this new line," say the people behind the clothing line. "Through this collaboration, we want Rico's style to translate in the products and make it accessible to our consumers."
Human's new lines designed by Rico Blanco are available at all Human stores nationwide.